Written by

Robert Hassan, Professor, School of Culture and Communication, University of Melbourne
Spoiler alert: this story details how The War of the Worlds ends.
The latest screen adaption of H. G. Wells' 1898 modern masterwork The War of the Worlds will hit our screens this week. Continuously in print since its first publication, the book is a literary gift that keeps on giving for producers and screenwriters. They recognise the story's unerring capacity to find its mark with each generation.
Wells – who also wrote The Time Machine (1895) and The Invisible Man (1897) – helped pioneer the science fiction genre when he conceived this astonishing book. With an eyewitness narration that reads grippingly still, it tells of a Martian invasion of Earth.
Shock and awe
Set in London, Wells depicts a complacent world; of men "serene in their assurance" of their dominion over the planet. But humans get the shock of another reality when suddenly visited upon by blood-feeding and squid-like creatures possessed of "intellects vast and cool" that are "unsympathetic" to Earthlings whose planet they had long "regarded with envious eyes".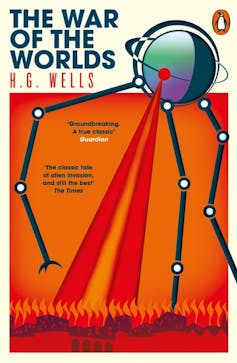 Authors: Robert Hassan, Professor, School of Culture and Communication, University of Melbourne
Read more https://theconversation.com/guide-to-the-classics-the-war-of-the-worlds-128453