Written by

Michelle Grattan, Professorial Fellow, University of Canberra
Scott Morrison summoned his self-restraint and resisted temptation. Invited on Thursday to attack the Victorian government over its disastrous decision to use private security guards to monitor people in hotel quarantine, the prime minister was careful.
He hadn't seen himself as a "commentator" on state governments, he said. "I've seen myself simply seeking to help them deal with the problems that they've had."
He added just a little dig, saying he understood many Victorians would be frustrated and angry and "I'm aware of where they're directing that frustration and anger."
"But it won't help the situation if I were to engage in any of that. I have a good working relationship with the Victorian government."
Morrison needs to keep his national cabinet as united as possible, and turning on Victoria would be counterproductive.
The cynics might also note there's no imminent election in Victoria. Contrast the federal criticism of the Palaszczuk government, which goes to the polls in October, over its refusal to open its border (which it is finally doing this Friday, except to Victorians).
Read more: Melbourne's second lockdown will take a toll on mental health. We need to look out for the vulnerable
Federal Liberals from Victoria are sending mixed messages. Tim Wilson told Sky the Andrews government had put the interests of companies "that hired their union mates" above the public health of citizens.
But Russell Broadbent said now was the time to be "backing the premier, not attacking the premier. This is not a time for politics and divisions. We all make mistakes."
This second wave of the coronavirus that's hit Victoria will test whether the strong public support we've seen for Australian leaders during COVID will hold.
Morrison is being diplomatic but Daniel Andrews this week has come under intense criticism, especially from sections of the media, with calls for ministerial heads and greater accountability. Andrews' decision to appoint a judicial inquiry into the quarantine disaster has been condemned as a way of avoiding having to answer immediate questions.
The premier was particularly exposed because early on, he had been so insistant there should be tough restrictions.
The reporting has also, naturally enough, focussed on the hardships stories. But it is yet to become clear what the majority of the community thinks, or how much more difficult the drastic new lockdown will be to run than the last one.
On treasurer Josh Frydenberg's figures the lockdown will cost the Victorian economy $1 billion a week – and it goes for six weeks.
The rest of the country will pay for the mistakes and lapses in Victoria, even if it will be some time before we know how high the price will be.
The new situation will reset the parameters for the federal government's July 23 economic statement, with even more spending needed after September than was anticipated.
The government is now framing that statement against a background of greater uncertainty than expected only weeks ago.
The Victorian outbreak has meant the state has not been able to accept flights of Australians returning from overseas. Other states want inflows of returnees restricted and national cabinet is set to cap numbers generally, adding to the hurdles faced by those who have delayed coming home. Federal and state governments are showing little sympathy for these laggards, believing they should have returned earlier.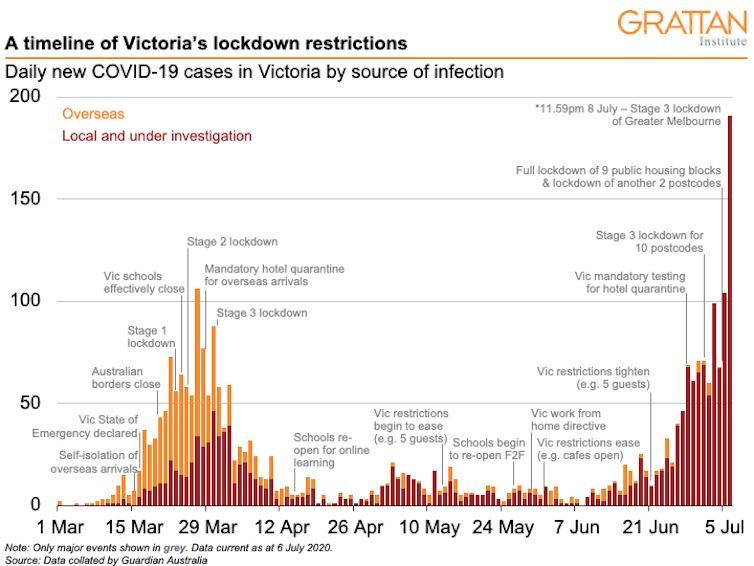 Authors: Michelle Grattan, Professorial Fellow, University of Canberra
Read more https://theconversation.com/grattan-on-friday-does-victorias-second-wave-suggest-we-should-debate-an-elimination-strategy-142374