Written by

Andrew Podger, Honorary Professor of Public Policy, Australian National University
In Hidden Hand, China scholars Clive Hamilton and Marieke Ohlberg examine the Chinese Communist Party's influence in Europe and North America in a similar way to how Hamilton dissected the CCP's influence in Australia in his 2018 book, Silent Invasion.
In my review of the 2018 book, I wrote
Perhaps Hamilton's book is a useful reminder that we must not be naïve about our relationship with China. But his prescription, premised on China being our enemy and determined to achieve world domination, is precisely the wrong direction for addressing the genuine issues he raises.
The new book warrants a similar conclusion, though President Xi Jinping's continued strengthening of CCP controls and pursuit of hegemony in our region add to the importance of not being naïve.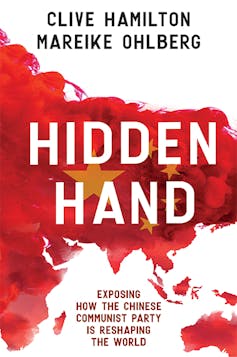 Authors: Andrew Podger, Honorary Professor of Public Policy, Australian National University
Read more https://theconversation.com/book-review-hidden-hand-exposing-how-the-chinese-communist-party-is-reshaping-the-world-142058