Written by

Neil G Sipe, Honorary Professor of Planning, The University of Queensland
As with other parts of the global economy, COVID-19 has led to rapid changes in transport trends. The chart below shows overall trends for driving, walking and public transport for Australia as of July 17.
Apple Mobility Trends
Unfortunately, the current lockdown of metropolitan Melbourne, which is at odds with trends in Australia's other biggest cities, is skewing the national average. These data, provided by Apple Mobility Trends, are available for many cities, regions and countries around the world.
Updated daily, the data provide a measure of trends in transport use since early January 2020. The chart below summarises the changes since then in driving, walking and public transport for Brisbane, Sydney, Melbourne, Adelaide and Perth.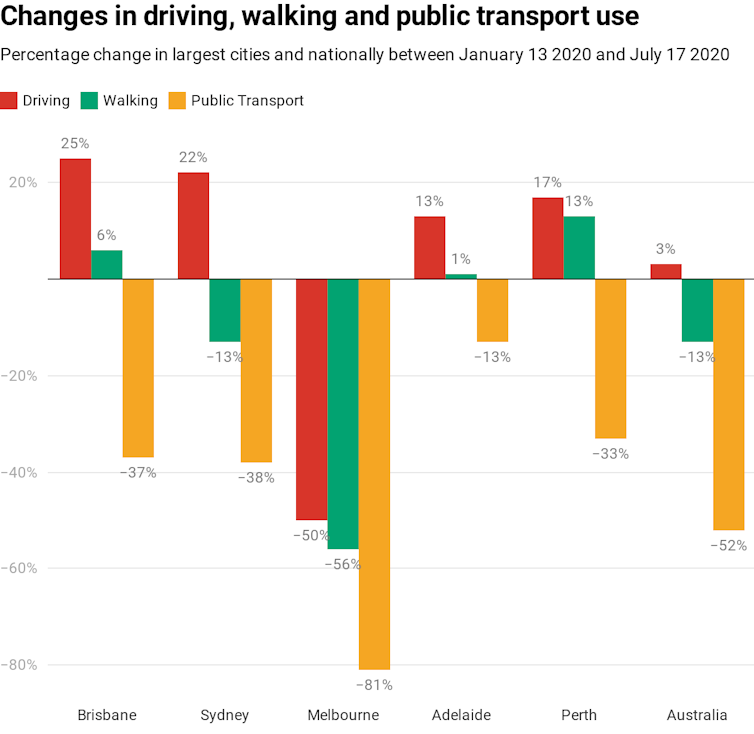 Authors: Neil G Sipe, Honorary Professor of Planning, The University of Queensland
Read more https://theconversation.com/cars-rule-as-coronavirus-shakes-up-travel-trends-in-our-cities-142175