Written by

Stephanie Trigg, Redmond Barry Distinguished Professor of English Literature, University of Melbourne
In our series Art for Trying Times, authors nominate a work they turn to for solace or perspective during this pandemic.
The Greeks are at the gates, and the city of Troy is under siege.
Every day, the Trojans ride out to do battle with Agamemnon, Odysseus, Ajax and the aggrieved husband Menelaus, whose wife Helen has been abducted by the Trojan prince Paris. But despite this crisis, the Trojan leisured classes carry on with their lives.
Read more: Fall of Troy: the legend and the facts
One joyful spring morning, when the sun is shining and the meadows are filled with flowers, a beautiful young widow, Criseyde, sits in her palace, in a paved parlour with two other ladies, while a young maiden reads to them the story of another siege, that of the Greek city of Thebes.
This pleasant scene is interrupted by Criseyde's uncle Pandarus, who is bringing the astonishing news that Paris's younger brother Troilus has fallen in love with her.
Geoffrey Chaucer wrote his great romance Troilus and Criseyde around 1386. I teach this text every year in my honours class. It is long and difficult, and we normally spend half the semester working through the poem. Even then we don't read it all in detail.
This year, the global pandemic brings a new context for reading this poem about a passionate but doomed love affair between two Trojans, conducted under siege conditions, in addition to all the constraints Chaucer's very medieval lovers place around themselves.
A secret affair
Chaucer's language in this text is rich and ornate, and the poem is written in a rhyming stanza whose syntax ranges from elegant to knotty. The narrative is both leisurely and intense.
It offers philosophical digressions about the nature of free will and predestination; but it is also full of intricate private meditations, and absorbing, intense conversations between the three main characters.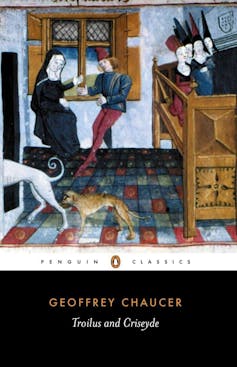 Authors: Stephanie Trigg, Redmond Barry Distinguished Professor of English Literature, University of Melbourne
Read more https://theconversation.com/chaucers-great-poem-troilus-and-criseyde-perfect-reading-while-under-siege-from-a-virus-142662