Written by

Frances Di Lauro, Senior Lecturer, Department of Writing Studies, University of Sydney
In the year then of our Lord 1348, there happened at Florence, the finest city in all Italy, a most terrible plague…
Giovanni Boccaccio introduces his acclaimed collection of novellas, the Decameron, with a reference to the most terrifying existential crisis of his time: the decimating effects of the bubonic plague in the 1348 outbreak known as the Black Death.
Boccaccio's book, written between 1348 and 1353, has been acclaimed as an exemplar of vernacular literary prose, and a commentary on the "peste" that swept through Europe that year.
A classic of medieval plague literature, it continues to be cited by physicians and epidemiologists to this day for its vivid depiction of a disease that held a city under siege.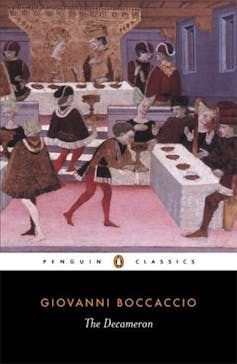 Authors: Frances Di Lauro, Senior Lecturer, Department of Writing Studies, University of Sydney
Read more https://theconversation.com/guide-to-the-classics-boccaccios-decameron-a-masterpiece-of-plague-and-resilience-143437