Written by

Marilyn Lake, Professorial Fellow in History, University of Melbourne
Review: Vida: A Woman for Our Time, published by Penguin (Viking imprint)
Australian women were not the first to win the right to vote in national elections. That world-historic distinction belongs to New Zealanders. But they were the first to win, in 1902, both the right to vote and stand for election to the national parliament.
Three Australian women quickly availed themselves of the opportunity. Nellie Martel and Mary Bentley from New South Wales joined Vida Goldstein from Victoria as candidates in the 1903 federal election.
Little is now known of Martel and Bentley, but Goldstein's contribution to politics has been commemorated in numerous scholarly studies, theses, essays, book chapters and encyclopedia entries, Janette Bomford's biography That Dangerous and Persuasive Woman, and a federal electorate named in her honour. But historical memory is fickle and we need still to know more about the political history of women in Australia.
Read more: Women's votes: six amazing facts from around the world
Enlivened by speculation
A skilled and prize-winning biographer, Jacqueline Kent brings fresh enthusiasm and focus to her quest to understand Vida's extraordinary political career and its disappointments in her new biography. Goldstein stood five times for election to the federal parliament and suffered five defeats.
Kent's previous biography was The Making of Julia Gillard and it seems the painful experiences of our first woman Prime Minister – subject to relentless misogyny and sexist attacks – remain fresh in the writer's mind.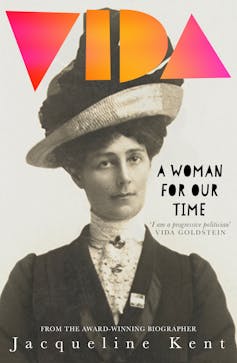 Authors: Marilyn Lake, Professorial Fellow in History, University of Melbourne
Read more https://theconversation.com/review-new-biography-shows-vida-goldsteins-political-campaigns-were-courageous-her-losses-prophetic-145691