Written by

Ian Anderson. Palawa, Deputy Vice-Chancellor Student and University Experience, Australian National University
The new National Agreement on Closing the Gap has a higher education target for the first time.
It's also the first time an agreement between governments on Indigenous issues was negotiated and signed by Indigenous Australians. The Coalition of Aboriginal Peak Organisations represented Indigenous Australians.
Read more: We have 16 new Closing the Gap targets. Will governments now do what's needed to meet them?
Endorsed by the National Cabinet on July 30 this year, the ten-year agreement replaces the 2008 National Indigenous Reform Agreement.
To reach the higher education target, universities and vocational education providers must overcome the educational and social barriers Indigenous students face. Higher education providers can also have an impact on all the agreement's target areas as well as the reform agenda set out in the agreement.
What is the target?
The higher education target is for 70% of Indigenous Australians between 25 and 34 years of age to have a tertiary qualification by 2031.
In 2016, 42.3% of Indigenous Australians in this age group had tertiary qualifications at the target's required level. The proportion had more than doubled from 18.9% in 2001. By contrast, however, 72% of non-Indigenous Australians had such qualifications in 2016.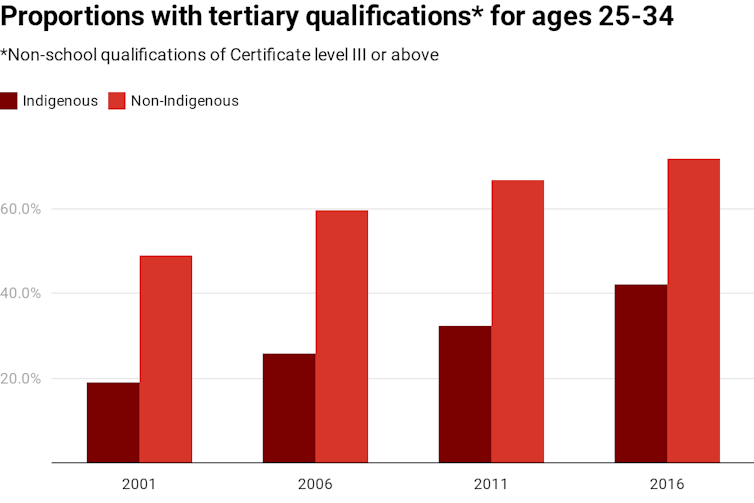 Authors: Ian Anderson. Palawa, Deputy Vice-Chancellor Student and University Experience, Australian National University
Read more https://theconversation.com/for-the-first-time-closing-the-gap-has-a-higher-education-target-heres-how-to-achieve-it-147984