Written by

Daryl Sparkes, Senior Lecturer (Media Studies and Production), University of Southern Queensland
In a new series, writers pay tribute to fictional detectives on page and on screen.
Hard-boiled doesn't come close to describing Sam Spade.
He's the original Private Investigator on which all other PIs are based. You'll be very glad to have him on your side, and terrified to have him as your opponent.
Spade was the invention of the great noir crime writer, Dashiell Hammett, who published his first novel in 1929. Spade is often overlooked for the dashing Philip Marlowe, created by the more well-known crime writer, Raymond Chandler, who began publishing soon after Hammett stopped in the late 1930s.
Chandler was clearly influenced by Hammett, with Marlowe and Spade sharing many of the same qualities — tough, no-nonsense, hard-drinking and wise-cracking. Both are morally upright. And they share an eye for the ladies. But I've always thought that Spade was smarter than Marlowe, and had a deeper insight into the human condition, especially when that condition involved murder, blackmail and theft.
Wikimedia Commons
Serial contender
Spade and the first story he appeared in, The Maltese Falcon, made their debut in the 1920s Black Mask magazine, serialised over five editions.
Hammett wrote four other Spade stories for different magazines, collected in A Man called Spade and Other Stories. He also created the characters of Nick and Nora Charles (The Thin Man) and the Continental Op (Red Harvest and The Dain Curse).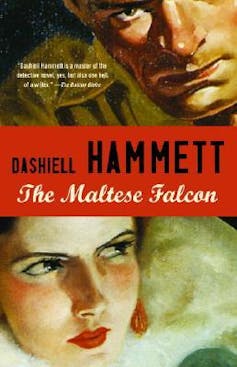 Authors: Daryl Sparkes, Senior Lecturer (Media Studies and Production), University of Southern Queensland
Read more https://theconversation.com/my-favourite-detective-sam-spade-as-hard-as-nails-and-the-smartest-guy-in-the-room-149295