Written by

Ping Tian, Honorary Associate, Department of Linguistics, University of Sydney
Early exposure to diverse story characters, including in ethnicity, gender and ability, helps young people develop a strong sense of identity and belonging. It is also crucial in cultivating compassion towards others.
Children from minority backgrounds rarely see themselves reflected in the books they're exposed to. Research over the past two decades shows the world presented in children's books is overwhelmingly white, male and middle class.
A 2020 study in four Western Australian childcare centres showed only 18% of books available included non-white characters. Animal characters made up around half the books available and largely led "human" lives, adhering to the values of middle-class Caucasians.
In our recent research of award-winning and shortlisted picture books, we looked at diversity in representations of Indigenous Australians, linguistically and culturally diverse characters, characters from regional or rural Australia, gender, sex and sexually diverse characters, and characters with a disability.
From these, we have compiled a list of recommended picture books that depict each of these five aspects of diversity.
Read more: In 20 years of award-winning picture books, non-white people made up just 12% of main characters
Aboriginal Torres Strait Islander characters
Tom Tom, by Rosemary Sullivan and Dee Huxley (2010), depicts the daily life of a young Aboriginal boy Tom (Tommy) in a fictional Aboriginal community — Lemonade Springs. The community's landscape, in many ways, resembles the Top End of Australia.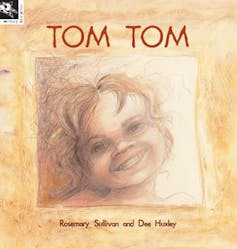 Authors: Ping Tian, Honorary Associate, Department of Linguistics, University of Sydney
Read more https://theconversation.com/empathy-starts-early-5-australian-picture-books-that-celebrate-diversity-153629