Written by

Jane Howard, Deputy Section Editor: Arts + Culture
Freud and Nietzsche may not be what you have in mind when thinking of pool-side reads, but they are among the books flipped through in The White Lotus — the tense, new TV drama about the lives of the rich and privileged as they overlap at a Hawaiian resort.
Are Paula and Olivia truly delving into the mind of the anti-colonial thinker Frantz Fanon, or indeed, into Camille Paglia's deconstruction of the Western literary canon? Or are they just books for show: an intellectual performance to hide secret glances and gossip?
Either way, frequent book covers speak loudly in the show. So here, then, is what the experts think you should know about these props and the stories they tell.
Maybe you will find one to pick up the next time you fly off for your island holiday. Just try to avoid the White Lotus resort.
The Interpretation of Dreams, by Sigmund Freud
"If I cannot bend the heavens above, I will move Hell." Sigmund Freud quotes the poet Virgil to describe his aim in this book of explaining the meaning of dreams — by recourse to his theory of the unconscious mind.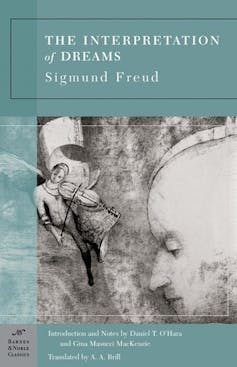 Authors: Jane Howard, Deputy Section Editor: Arts + Culture
Read more https://theconversation.com/freud-nietzsche-paglia-fanon-our-expert-guide-to-the-books-of-the-white-lotus-166187