Written by

Kevin John Brophy, Emeritus Professor of Creative Writing, The University of Melbourne
Our writers nominate the TV series keeping them entertained during a time of COVID.
As a child my reading tastes were precocious but old fashioned. For instance, I was reading H. G. Wells' 1898 speculative novel The War of the Worlds around 1960 as a ten-year-old, thrilling to its proposition that our civilisation could collapse at any moment, and the cold reaches of space might deliver to us an intelligent but ruthlessly murderous life form.
Although he was called the English Jules Verne (another childhood favourite), Wells claimed what he wrote was not science fiction, and thus not intended to carry "scientific" predictions about the world. He considered his works to be fantasies, aiming to achieve "the same amount of conviction as one gets in a good gripping dream". The moment a reader closed one of his books, he hoped, they would wake up to its impossibility.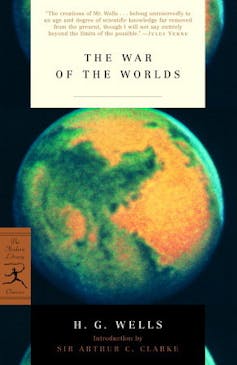 Authors: Kevin John Brophy, Emeritus Professor of Creative Writing, The University of Melbourne
Read more https://theconversation.com/at-least-were-not-being-exterminated-by-alien-attack-robots-watching-war-of-the-worlds-in-a-pandemic-167344