Written by

Katie Pickles, Professor of History, University of Canterbury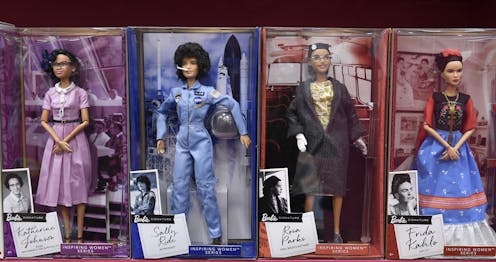 In news many probably never expected to see, no-frills, outdoorsy, animal behaviour expert and conservation activist Jane Goodall has become a Barbie doll (accompanied by her famous chimpanzee, David Greybeard).
Getty Images
As the latest member of toymaker Mattel's "Barbie Inspiring Women Series" honouring historical and contemporary heroines, she joins aviator Amelia Earhart, NASA mathematician and physicist Katherine Johnson and artist and political activist Frida Kahlo.
The range was launched on International Women's Day in 2018, part of Mattel's response to mothers' concerns about their daughters' role models. Others in the series include civil rights activist Rosa Parks, disability advocate Helen Keller, author Maya Angelou, medical reformer Florence Nightingale and suffragist Susan B. Anthony.
Each doll comes with information about their namesake's achievements and influence. Instead of being generic plastic bodies to be clothed and posed, the dolls were now pitched as "real" women, with Mattel engaged in "shining a light on empowering role models past and present in an effort to inspire more girls".
Getty Images
What makes a heroine?
Barbie has certainly come a long way since she was first manufactured in 1959 and became synonymous with what feminists saw as the objectification and commodification of women.
But the fact some of the world's most famous and groundbreaking women – who sought careers outside their physical appearance – were now being re-imagined as plastic dolls also interested me professionally.
Read more https://theconversation.com/jane-goodall-joins-barbies-inspiring-women-series-the-strange-evolution-of-an-iconic-doll-187839