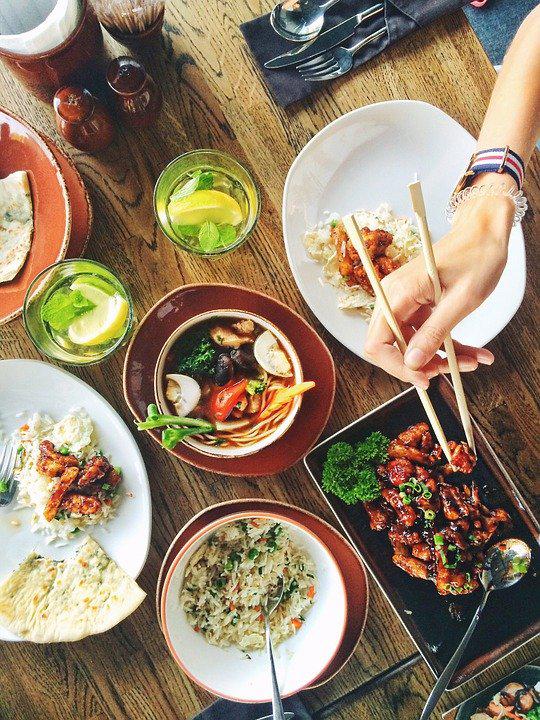 The concept of authentic Chinese cuisine is ambiguous. It becomes more uncertain when you try to find one in Sydney's diverse restaurant space. This is because Chinese food has so many varieties, styles, and distinct flavors. One ends up with a boundless array of cuisines and menu options. Moreover, the best Chinese restaurants in Sydney don't necessarily have a business website or do any extended level of marketing and advertisement. The website would allow them to differentiate themselves and gain recognition in the crowded and heavily competitive Chinese restaurant market.
Sydney is the city of the most famous and finest restaurants, including Chinese restaurants. The locals here have diversified taste buds; some like Italian, some Indian where many prefer to have Chinese. To facilitate you, we have compiled a list of the best restaurants in the city, such as Chatswood restaurants. So gather your teams, mates, and crews -- get ready to enjoy!
China Doll
Away from the city tucked into a suburb, there is a Chinese restaurant called China doll. They believe in fine dining. It is located in the historic Woolloomooloo pier, which has some impressive scenes where you sit around Sydney Harbor. Besides, when you want to enjoy with a friend, do let them know about this place, you can even make arrangements for any occasion or event here.


More information
Mon-Sun: 12:00 - 15:00
Mon-Sun: 18:00 - 22:00
Address: 4/6 Cowper Wharf Rd, Woolloomooloo Sydney, Australia
Mr. Wong
Mr. Wong just keeps on growing. It is a unique trendy Chinese restaurant. It consists of both modern and ancient interiors, which increases the traditional essence of the environment. They prepare their BBQ items in a special cooking machine that maintains the ideal temperature. Therefore, BBQ items like sweet and sticky ribs of pork, Peking pancakes, and dumplings cook to absolute perfection. And the menu consists of many other unique dishes like modern rolls and twisters which people like a lot these days.


More information
Sun-Monon: 12:00 - 15:00
Tues - wed: 17:30 - 23:00
Thu - Sat: 17:30 - 12:00
Address: 3 Bridge St Sydney, Australia
Contact no: +61292403000
Golden Century
Golden Century has become an identity of the Sydney-Chinese relationship. It mainly serves Seafood. For many years, this Chinese group served the best Chinese food in the city. They make an incredible Yum-Ch from 12 a.m. to 3 p.m. every day, they serve everything: dumplings, wontons, and BBQ pork buns.
Golden Century is a complete package of traditional Chinese food, almost all popular food items are available in this iconic restaurant in Sydney. Aquarium in the restaurant consists of fishes, crabs, and lobsters.


More information
Mon-Sun: 12:00 - 4:00
Address: 393-399 Sussex St Sydney, Australia
Contact no: +61292123901
Eaton - Chinese Restaurant
This suburban snack bar is not like the others; you will find a variety of appetizing food and fine rocking ambiance inside this restaurant. They have amazing options on their menu. They also offer live seafood which you can check out on their menu before ordering. Moreover, they also offer sizzling hot spots dishes with meat and ample of Asian style Spaghetti. In case you are starving late at night, they are open to welcome you. Visit them and have the food you want.


More information
Mon-Sat: 16:00 - 2:00
Sun: 4:00 - 12:00
Address: 313 Liverpool Rd, Ashfield Ashfield, Sydney, Australia
Contact no: +61297982332
Happy Cook
The chef's happy cook restaurant is a humble little place with impressive ambiance and surrounding with balloons and distinctive statues placed in a food court. It is located at Sussex Street in Haymarket. They are there for you whenever you are peckish and want a little brunch or supper, or to have soup. Toasted and cereal breakfast are also part of the menu. They also serve coconut seafood – Laksha. It is one of the best food items in Sydney. No wonder this small place is always over-crowded.


More information
Sun-Mon: 10:00 - 21:00
Address: f3 / 401 Sussex Street, Haymarket Haymarket, Sydney, Australia.
Lotus Barangaroo
Michael Jiang had created Lotus Dining in 2012 and to date, he is running it successfully. The owner dreamed of establishing a restaurant that offers an exclusive compilation of Chinese food. He was full of dedication and passion and has put forward his best to make this business successful.
This fascinating and evolving location of this restaurant, on the edge of the harbor, makes it stand out. They are serious about delivering quality which customers appreciate.
Blue Eye Dragon
Delivery or dine-in; they serve and offer classic Chinese and Taiwanese cuisine. Blue Eye Dragon offers a full range of flavors with enthusiasm and appropriate hospitality. The thing that strikes directly on the mind when you walk up to the restaurant is the statue of the dragon wrought iron. There is an impressive entry gate and the building is constructed from sandstone. Moreover, the looks are also different from traditional Chinese restaurants. The ambiance is set as dark that changes the dining scenario and mood.
Madame Shanghai
Madame Shanghai is a bar-style restaurant. Whenever you intend to visit Sydney, we would recommend that you visit this restaurant and have delicious Shanghai cuisine and Chinese BBQ. Chinoiserie furnishings and Madame Shanghai's old-school charm gives you an impression of the Shanghai historical era of 1930. Further, the interior includes rattan panels and grand palace lanterns. Besides, there is a gold ceiling in the emerald green-bar room.
Din Tai Fung (World Square)
Visit the Din Tai Fung someday and sip and slurp through its menu. They do not only offer delicious food but also facilitate their customers by entertaining them; they offer slow and soft music. However, they have comparatively higher rates, still, the crowd visits this place whenever possible with planning.
They offer a dish called Xiao Long Bao; it is filled with an excessive broth of pork. This steamed pork open when you put it in your mouth. It takes much to master the fine Chinese recipes, Din Tai Fung has already done so in his kitchen. Several recipes are made from scratch. The ratio of water to flour, humidity, and dough thickness plays a crucial part in baking and cooking. Moreover, chefs must consider and adhere to strict recipes while taking into account scientific measures.
Conclusion
When it comes to Chinese restaurants, a newly evolving dining trend is to include the CBD in the recipes to make delicious and healthy foods. Chinese food is a mainstay in the common shops, restaurants and 5-star hotels. Where we have mentioned so many amazing restaurants that have survived the test of time. One didn't, Billy Kwong was one of the leading competitors in Sydney's food space. However, due to some issues, this restaurant closed at the end of 2019. Still, several fans miss this Chinese dining venue and hope that it opens again.