A Brisbane based construction manufacturer has designed a state-of-the-art truck tipper that completely changes the way construction material is moved.
ShawX Manufacturing, known for their high quality, Australian made excavator buckets has designed the EjectX. A truck tipper that does everything but tip. Traditional tippers use a hydraulic arm to raise the tipping body into the air in order to empty its contents out.
The EjectX tipper body uses a purpose built, hydraulic ram that pushes its contents out of the rear of the truck. It is designed to push anything from asphalt, demolition materials, rock and rubble, including hot or cold material.
The material flows freely out of the tail gate, which opens automatically as the plough moves through the body. This method reduces wear and tear on the tailgate, and improves the over safety when compared to a conventional tipper.
Conventional tippers are subject to safety concerns such as:
Danger of hitting overhead powerlines.

Danger of hitting trees and other obstructions.

Possibility of rolling over on adverse slopes.
These issues are eliminated with the EjectX design, and other advantages include:
No tipping.

Reduced operating costs and cycle times.

Heavy duty, full bisalloy body.

Safer near overhead powerlines, low hanging trees and other obstructions.

Reduced roll over risk.

Reduced "carry-back" due to rubber scraper on plough.

Greater operating range with the ability to eject on adverse slopes.

No belts, chains or bearings.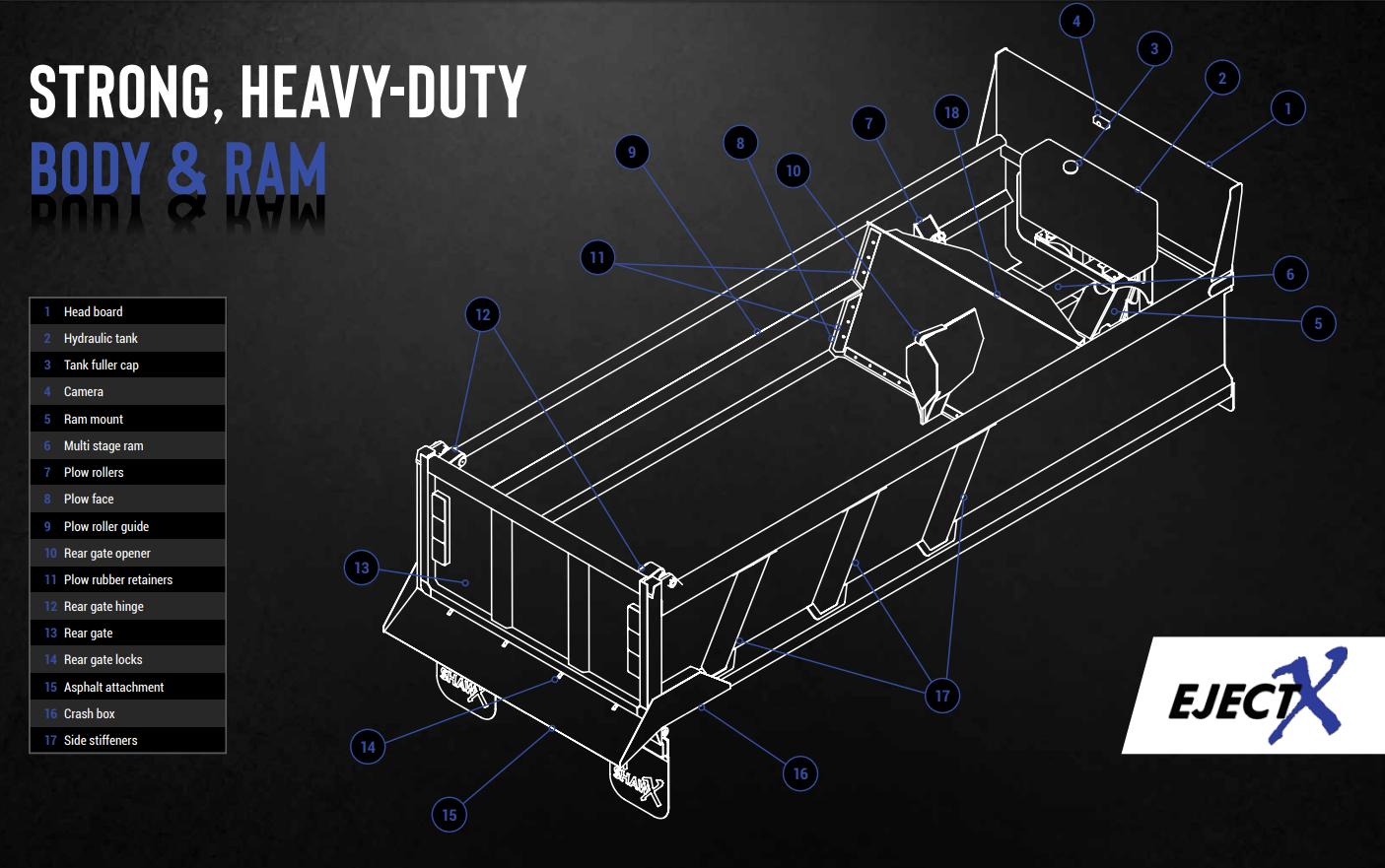 Material can be spread evenly across an area by driving the truck forward as the material is being ejected out the back of the tipper body.
The main reasons traditional tipper trucks tip includes:
Unloading on an unstable or unlevel ground increases the lateral tilt of these trucks, altering their centre of gravity and causing them to tip over during unloading
Some products including wet soil can remain stuck at the top of the bin during unloading, causing the bin to become top-heavy and tip over.
Driver distraction, and poor weather are factors that can increase the risk of tipper trucks tipping over.
ShawX Manufacturing is owned and operated by Ken, Donna and Brett Shaw, and previously known as Titan Manufacturing. Recognising the industry trend towards cheap imported products at the cost of reliability, quality and longevity, they aim to provide a high quality and Australian made products.