Written by

Hassan Ahmadian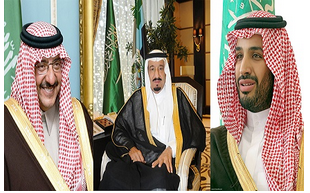 Ph.D., Senior Researcher; IRI Expediency Council's Center for Strategic Research (CSR)
In less than 100 days after his ascension to Saudi Arabia's throne, King Salman has issued more than 500 royal decrees. In other words, he has issued an average of one decree every two days, which have not only restructured the political structure of the country, but have also changed many personalities in Saudi government. This amount and intensity of change has had no precedent, neither in history of Saudi Arabia, nor in any other Arab monarchy in the region. However, the point which has been more important than the speed and intensity of appointments and depositions, has been their effect on the power structure in Saudi Arabia. Therefore, questions have arisen about the reason behind the speed of these changes, the main goal of such extensive alterations, and their effect on domestic power structure and foreign policy of Saudi Arabia.
When the speed of change is accelerated within a conservative monarchy, such a development cannot be simply attributed to disposition and personality of the person who makes the main decisions. Conditions surrounding this decision also play a great part in this regard. During the past decade, one of the main debates in Saudi Arabia has been about the issue of succession and the possibility of this issue becoming critical. Under King Abdullah, political groupings and give-and-take gradually intensified and finally led to the emergence of two major power poles alongside other factions, which did not have much power. As a result, observers, who expected a serious faceoff between these factions, started to offer relevant scenarios. King Abdullah's faction, which included the king and his offspring, topped by Mutaib bin Abdullah, not only controlled the National Guard, but also the Emirate of Mecca and Riyadh and a number of other key posts. On the other hand, the crown prince had his own faction and despite the fact that the crown prince had changed three times, the powerful Sudairi faction maintained its control over this key post, until King Salman finally ascended to the throne.
Differences were evident between these two factions in various institutions as well as different centers of power, and serious changes were expected to take place in major political posts. However, setting aside the gradual process of change in favor of more rapid alterations was a telltale sign that internal rivalries within the ruling family had reached an unprecedented level. Therefore, before the rival faction could adapt to new conditions and pluck up enough strength to resist them, King Salman kicked off his extensive wave of change. A transition from the second generation to the third cannot be considered as the main goal of Salman because this goal had been already achieved by appointing Prince Muqrin bin Abdulaziz as the crown prince, and the third in power after Muqrin, who is the youngest son of Abdulaziz, was expected to be a person from the third generation. Therefore, the sole cause of those changes was further intensification of internal rivalries.
The second point is that the domestic policy of Saudi Arabia has a dynamic link to its foreign policy. Mohammad bin Salman, the favorite son of the king, waged the war on Yemen in the second month after being appointed as minister of defense, in order to further bolster his own domestic standing. However, it didn't take long before he came to realize how difficult it was to achieve the goals of the operation he had launched. As a result of Saudi Arabia's failure in Yemen, observers expected some domestic change to come about. Prince Mutaib bin Abdulaziz could have played a pivotal role in this regard. This seems to be the sole rational justification which can explain the speed of the second round of extensive changes in Saudi Arabia in the height of the Yemen war and just two months after the first round of those changes. Thus, one can claim that the faction, which was gaining power in Saudi Arabia, tried to take advantage of the war in Yemen in order to bolster its standing within Saudi Arabia.
The third point in this regard is that there has been a lot of talk about Saudi Arabia's changing approach to regional issues after the rise of King Salman to power. This issue has its roots in the different approach that Riyadh has taken to the Muslim Brotherhood under King Salman. Under both Abdullah and Salman, the main priority for Saudi Arabia has been, and still is, to counteract Iran's regional power and the prominent role it plays in many regional issues. The most important development that has taken place in the new era is more closeness of Saudi Arabia to the Muslim Brotherhood and efforts made to cooperate with this regional current against Iran and its regional allies. Naturally, those elites who played an effective role in confrontation with the rising power of the Muslim Brotherhood under King Abdullah, could not have easily changed their approach in the new era in order to promote Saudi Arabia's new foreign policy. Therefore, from this viewpoint, foreign policy concerns have been a factor in the domestic developments of Saudi Arabia.
On the whole, intensification of internal rivalries within Al Saud family can be considered as the main reason behind the accelerated pace of change in this country. Of course, regional and international environments have been playing a role as secondary factors. Saudi Arabia, which has failed in most regional cases it has been involved in, is now seeing itself in a region where not only Iran's power has been constantly on the rise, but the United States and other players are not willing to manage regional crises and counteract Iran's regional policies anymore. Under these circumstances, Saudi Arabia sought to enter a new round of regional confrontation with Iran and Saudi leaders believed that getting over internal rivalries and strengthening the political faction that was on the king's side were requisites for focusing more on regional developments. From this viewpoint, changes that have come about in Saudi Arabia have been aimed at reproduction of a totalitarian system by injecting younger blood due to reasons that were directly related to the country's foreign policy.
Although these changes have had a major effect on domestic policy of Saudi Arabia, no essential change has taken place in terms of Saudi government's position on a spectrum which extends from democracy to totalitarianism. In addition, although foreign policy of Saudi Arabia has altered its direction in accordance with the aforesaid changes toward cooperation with the Muslim Brotherhood in the region, the main priority of this country – which is to counteract Iran's regional power and influence – has remained unchanged. In reality, Saudi Arabia's domestic and regional moves in the new era, alongside other realities, indicate that Riyadh has not a good grasp of the profound changes in the United States' regional policies, and worse than that, they are indicative of Saudi Arabia's effort to struggle against changes that are taking place in international politics of the Middle East. Unlike the administration of Iranian President Hassan Rouhani, which has been formed on the basis of a new understanding of regional developments and is promoting its regional policy on that basis, its most staunch regional ally, namely Saudi Arabia, is still insisting on age-old mechanisms. As a result, all actions taken on the basis of such traditional tools will certainly boost the regional dynamism that will only lead to escalation of unrest, insurgency, and instability. Coming to power of young elites in Saudi Arabia, who put the highest emphasis on military solutions and imposing those solutions on other countries, shows that the future Saudi Arabia will be a country seeking to change the status quo. Of course, a change under critical conditions will lead to nothing, but more crisis in the region.
Key Words: Saudi Arabia, Iran's Regional Clout, King Abdullah, King Salman, Prince Muqrin bin Abdulaziz, Mohammad bin Salman, Prince Mutaib bin Abdulaziz, Extensive Changes, Yemen War, Muslim Brotherhood, Internal Rivalries, President Hassan Rouhani, Ahmadian

Source

http://www.iranreview.org/content/Documents/Changes-in-Saudi-Arabia-Aimed-at-Blocking-Iran-s-Regional-Clout.htm

Hassan Ahmadian
Ph.D., Senior Researcher; IRI Expediency Council's Center for Strategic
Research (CSR)

More By Hassan Ahmadian:
*Washington Coming to Grips with Reality in Syria: http://www.iranreview.org/content/Documents/Washington-Coming-to-Grips-with-Reality-in-Syria.htm
*Saudi Arabia, Turkey, Egypt and Changing Political Groupings in Mideast: http://www.iranreview.org/content/Documents/Saudi-Arabia-Turkey-Egypt-and-Changing-Political-Groupings-in-Mideast.htm
*Regional Players and Yemen Crisis: Is Yemen Moving toward Disintegration?: http://www.iranreview.org/content/Documents/Regional-Players-and-Yemen-Crisis-Is-Yemen-Moving-toward-Disintegration-.htm
*Photo Credit: Bayan Center.Org