Written by

The Grill Team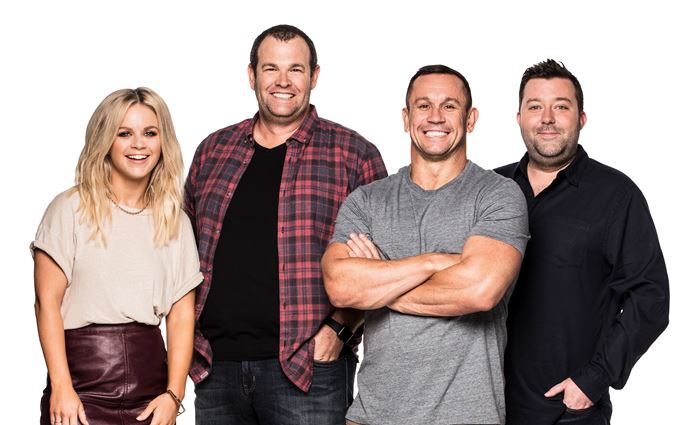 HOST: How are you holding up, how's things?
PRIME MINISTER: Mate, great. It's a great privilege and it's a humbling experience as people would expect it to be. But you know, you just roll your sleeves up and you just get on with it. The events of the last three weeks were pretty… not expected, let's just say that, to put it calmly. But when you're in those situations, you'd know you've been involved in sport across your life, you just have to step up. That's what I've been doing.
HOST: You carry a lot of responsibility, Prime Minister. Because I think at the moment - and you'd be acutely aware of how disenchanted people are with politics - all the switching and the changing.
PRIME MINISTER: Yeah.
HOST: What do you stand for? What are you going to give us today?
PRIME MINISTER: A fair go for those who have a go.
HOST: I'll just say this before you start. You know, it's really funny because we get some of the blokes in here. We've had Mr Abbott, we've had Bill Shorten and it's funny, they're such… Bill Shorten, he was one of the really surprising ones, when he came in. Because when the camera turns on, he looks like a bit of a pumpkin. But when he came in and you talk to him, he's really good, like, a really good fella. I go, where's that bloke? Where's that bloke when the camera goes on? So a lot of people listening at the moment and at the moment you're in your honeymoon period. So what do you stand for, what are you -

PRIME MINISTER: It's been an interesting honeymoon period, I've got to tell you. But that said –
[Laughter]
HOST: Well the polls are swaying around, the opinion polls are swaying around as they did with Malcolm. But what do you stand for, what are you going to give us?
PRIME MINISTER: Well, what I just said. I want, in Australia, if you have a go, you should get a go. There's a lot of talk about fairness in this country and what does it mean. To me it doesn't mean everyone gets the same thing. It means that if you really put in - and it doesn't matter what your level of ability is - we want everyone to have the same opportunities. But when you really stump up, then you should be able to get ahead in life.
Now look, I'm a mortgage-belt Liberal. I've got a mortgage like everyone else, I've got two young kids, nine and eleven, going to school. That's the center of my life, is my family. The values that come out of being a dad, the values that come out of just living a life in the suburbs of Sydney. That's how I grew up as well, they're the values and beliefs that I think you've got to take into the job. Because that's what everyone else is dealing with.
So look, our economy is actually going much better than it has for some years. But I know not everybody feels that. So I've got the plans to make sure we can get that out to everybody, those economic benefits. So they can do better on their mortgage, they can do better on their power prices, they can do better with the other bills. That they know when they go and put the extra effort in, that they'll pay less tax as a result and they'll be able to get ahead and not feel like they're just smashing their head against the wall.
HOST: Could you give us an example? So the blokes out there working on the road at the moment –
PRIME MINISTER: Sure, the guys who are turning up are already on site now, they're paying less tax because of what I've done in terms of taxes on small and medium sized business. They're paying less tax on the utes that they've bought. Those who are earning, every dollar every day now, the tax plan I had put through the Parliament, means we're getting rid of a whole threshold in the tax system. No one will pay, under the tax plan I've already had legislated into the future, any more than 32.5 per cent in tax on their marginal rate, other than 6 per cent of the population. So 94 per cent, no more than 32.5 cents in the dollar on tax.
HOST: How do you make up that tax?
PRIME MINISTER: How do I make it up?
HOST: How do you make that up? If you're pulling back on one side there's got to be –
PRIME MINISTER: Yeah this is how it works, if you grow the economy, which is what we've been doing - the economy is now growing at 3.4 per cent. Faster than the US. Faster than the UK. Faster than Japan, faster than Germany, all of these countries. Now we've done that through a lot of hard work. If you grow the economy, then there is more for everybody. If you do things which hurt the economy, like put taxes up on it and have stupid regulations and you don't support small business, then the economy gets smaller.
So we're for a bigger economy, which means bigger opportunities for everybody and that everybody gets a fair go.
HOST: PM, it's good to hear that. Because like you say the last three weeks have been an absolute disaster for everyone. Because we want governments to be out there working for us and stuff. There were days there where you thought; "Well, is anyone actually doing anything?" So to hear some positivity like that is great.
So I think that's probably the hardest thing for you over the next however long before you call an election, will you have enough time to get that across to all of us? Because there are some, like Matty said, people at the moment who are sort of flipping and flopping a bit. That Wagga result for the NSW Liberal Government obviously wasn't a good one. So do you think you'll have enough time to be able to get that across and let people know that you're a safe pair of hands taking us forward?
PRIME MINISTER: Well look, I've been part of the Government for the last five years. I was there when we stopped the boats and was critical and central to that. I was there in Social Services when we've now got the level of people being dependent on welfare, of a working age, to the lowest level in 25 years. I've been there as the Treasurer as we've got the Budget, getting it close back to balance and the economy has been improving and getting taxes down. So we've got a track record.
But look, people are giving me a go, and I thank them for that. They are giving me a go and they understand that the events of a few weeks ago were just completely mystifying but they're also prepared to give me a go. The election is next year, so there's time, I think, for people just to get to know me. I'm just going to be myself. I was down in Melbourne last week on the Grill Team down there in Melbourne and I agreed with Eddie. They were going; "Oh what's your AFL team?" And I said; "Well I don't have one, I don't follow the AFL."
HOST: Spot on.
[Laughter]
PRIME MINISTER: You know, I'm a Sharks supporter. That's who I support.
HOST: You've got my vote.
PRIME MINISTER: Look, I go along to the games and I enjoy them like I'm sure you do if you go to a game of AFL. But you know, what you're going to get from me, is just me.
HOST: You went to school at Sydney Boys High?
PRIME MINISTER: Yeah, yeah.
HOST: What did you want to be when you were at school?
PRIME MINISTER: Look, like I think a lot of young people at that time, I was sort of open to a lot of things. I was enjoying just hanging out with my mates and playing footy. I used to row back at school then, so that meant I was a bit slimmer than I am now, but I was just looking forward to my future.
HOST: What's your biggest vice, Prime Minister?
PRIME MINISTER: My biggest vice? I like a beer.
[Laughter]
HOST: Well you're in good company. That's not really a vice, we said vice.
[Laughter]
HOST: Can we ask you PM, how you felt when Latrell Mitchell just got his hand and flicked the ball out of Luke Lewis' arms when he was about to score for your beloved to make it 18 all against –
PRIME MINISTER: Oh, I know.
HOST: Talk us through that mate.
PRIME MINISTER: Luke, that would happen to Luke about once a millennia, I think.
[Laughter]
That was one of, or the key turning point of the game, I suppose there were a few others. But that was pretty crushing. But this is why the Roosters won last week, they just took their opportunities, every time they had one. Look, there were some pretty tough calls we got there, but that's one thing. But then they just went and scored on the next set of six. That's what you've got to do and we didn't do that last week and the boys know that. So they'll turn up tonight, I think, with that firmly in mind and very determined. But it's going to be a classic, a classic tonight.
HOST: They're a good side the Roosters, because they've got a half-back in Cronk and he holds his nerve under the blowtorch. Are you planning for the blowtorch, if it happens, if you do a policy that they're not happy with - because this has been the beginning of the end for some Prime Ministers - when they do something and the majority don't like it; they go; "Uh," and they flip-flop.
PRIME MINISTER: Well mate I've been through that baptism of fire. I remember when I was Immigration Minister and shadow immigration minister, everybody threw everything at me. They all said; "Oh, you'll never fix this. You'll never be able to do that and you shouldn't do it that way." I mean there's no shortage of advice you get in politics from all sorts of quarters. But you've got to know what you're about yourself. You've got to know what you think is going to work. You've got to listen to people, you've got to do all that. But at the end of the day, you've got to know what you're about.
So I've proved that, I think, I don't know on how many occasions. But even in this job, your skin gets thick quick in this job, as it has to be. So I don't shy away from that. I accept that as part of the responsibility. You'll get the sledging, you'll get the praise and you just look through all of it and you've got to look through the dust.
HOST: Mr Prime Minister, if you wouldn't mind putting your headphones on, we're going to open up the phone lines if anyone has a question for you this morning.
PRIME MINISTER: Sure.
HOST: We've got a caller on the line and it's Malcolm from Point Piper, good morning.
IMPERSONATOR: Good morning to you, hello to the Grill Team and hello to you Scomo. Congratulations on becoming the 30th Prime Minister of Australia. I'm calling from Point Piper, I've just flown into the country, I'll be flying out again. But I just wanted to ask you –
PRIME MINISTER: Who is this? He doesn't sound anything like the Malcolm I know. He's got no idea, this guy.
[Laughter]
HOST: Prime Minister, he's had a hard couple of weeks.
[Laughter]
PRIME MINISTER: He is channeling someone else I think.
IMPERSONATOR: Now before the spill, when you were patting me on the back Scomo did you have a knife in your hand? There was one stuck right between my shoulder blades.
[Laughter]
PRIME MINISTER: Who is this muppet?
IMPERSONATOR: Well, that's very rich coming from Fozzie Bear.
[Laughter]
PRIME MINISTER: At least he's funny.
[Laughter]
HOST: Have you blokes worked this routine before?
IMPERSONATOR: Now I'm stuck at the Waldorf at the moment –
HOST: They're somewhere else, they're down in Melbourne –
IMPERSONATOR: So after winning 38 consecutive preferred Prime Minister's why did I get kicked out, by the way?
PRIME MINISTER: Mate, I don't know who you're pretending to be today, but I know who I am.
IMPERSONATOR: Okay, good on you.
[Laughter]
HOST: Malcolm, thank you for the call. Scott, thank you very much for coming in this morning, it was nice to meet you.
HOST: One more thing before we go, Vix Vapor Rub. The kid in the Vix Vapor Rub commercials, was that you?
PRIME MINISTER: No, no that wasn't me. I was in another commercial, which thankfully, that's when digital cameras and footage weren't around. I suspect that is long on the cutting room floor, from a long time ago.
HOST: Oh, so they'll be hunting that down, I reckon.
PRIME MINISTER: I think they will be. But someone thought they had it, they thought it was that kid. No I was in another one. I'll give them a hint, I was wearing a yellow rain coat.
HOST: Oh, ok.
PRIME MINISTER: A rain coat is something you need in this job too.
HOST: Yeah and every time you come in here.
HOST: Prime Minister thank you so much for coming, we didn't have big Mal, the original big Mal, ever on the Grill Team in his time, but like Matty said we've had all the other Prime Ministers and Deputies. So nice of you to step up and good luck tonight for your Sharkies.
PRIME MINISTER: I'm looking forward to it. It should be a great contest.
HOST: Hopefully we'll talk to you again soon.
PRIME MINISTER: And sad we don't have Wade out there tonight, he's my favourite player Wade.
HOST: He's such a good player.
PRIME MINISTER: But I saw him at the game last night and you could tell this was a season-ending injury. But to Gals and to Flanno and all the boys tonight, we'll be there cheering on. Cheers.
HOST: If they make the Grand Final, we'd invite you to our Grand Final Luncheon.
PRIME MINISTER: That's fun, you can get whoever that guy was as well.
[Laughter]