Written by

Scott Morrison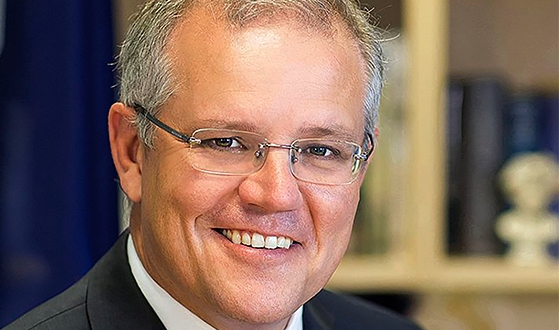 North Bondi Surf Life Saving Club funding; ABC; Royal Commission; Education funding;
DAVE SHARMA: Thanks Mark for having myself and the Prime Minister here at your club today. It's great to be here with the Prime Minister to announce a half a million dollars in funding to improve storage facilities for the surf lifesaving club. Clubs like this are the lifeblood of our communities and North Bondi is blessed with a really strong and active membership. So all we can be doing to help clubs like this strengthen their links to the communities, improve response times and increase safety for residents is all great. Prime Minister.
PRIME MINISTER: Thanks Dave. Well I get surf clubs. I've got four great surf clubs in my own community who enjoy a healthy rivalry up here with the Waverley District and within the Sydney branch. And one thing I know about surf clubs right across the country, whether it's here in NSW or elsewhere is they have just done such an amazing job in continuing to recruit right across all walks of life. I mean the trials that are put on every week just shows the volunteer spirit. But the great thing about surf clubs is it's not just about healthy competition, getting your kids involved in Nippers, a great lifestyle, enjoying the wonderful beach lifestyle we have in Australia.
But there is this great belief and value in service, there's a service to the community and our surf clubs provide that service. They do it as volunteers and it's everybody from who is patrolling, to everyone who is sitting in the committee room, raising the funds, you know, cooking the sausages, the gear steward who has one of the toughest jobs I think right across the surf club, the trainers and we want to back them in because they're having a go and today we're doing that here with the North Bondi Surf Club. The conditions that are down there in the gear room need to be upgraded and this is a three-way partnership. This is $500,000 from the Commonwealth, it is $500,000 from the local council and it's $500,000 from the club themselves so everybody is doing their bit here to ensure that the gear and how it is managed so they can actually get out there and support, they can support Australians just coming to the most famous beach in the country. And so we're very pleased and Dave congratulations on the work that you have been doing with us on this to ensure we can continue to deliver this important community infrastructure.
Look, there are a couple of other issues I wanted to just talk briefly about. Obviously the terrible incident that occurred with Constable McAulay is deeply upsetting and we will be following this one closely. But it is a reminder, I think, of the work and the sacrifice and the risks that our police officers take all around the country every day. And our thoughts are with him and his family and we hope and pray for his recovery, but it is a reminder of the great risks that police officers take and all emergency services; firies, paramedics and ambulance officers take on our behalf every day and that is deeply disturbing.
I also wanted to make a further announcement today. Later today, I will be recommending to the Governor-General the appointment of Dr Kirstin Ferguson as the deputy chair of the ABC. Should the Governor-General accept that recommendation then she will also be in the position of being the acting chair of the ABC until such time as a new chair appointment is made through the normal process.
But back to local things first. Why don't we start with questions on that and, Mark, did you want to say anything further?
MARK COTTER, PRESIDENT OF NORTH BONDI SURF LIFESAVING CLUB: I can't thank you guys enough. It's going to make a huge difference to not just our surf club, but the Waverley District jet ski that covers basically from La Perouse all the way to South Head. It's going to make a massive difference for us, Prime Minister, and I can't thank you enough for such a generous contribution to getting this thing rolling.
PRIME MINISTER: No worries. Well I know Malcolm would have been pretty keen on this one too. He has been a member of the North Bondi Surf Club for a long time. He told me plenty of stories about him and his dad here, it is a very special place where people come together from all walks of life and come here to pursue that great surf club ethos of service.
JOURNALIST: Prime Minister, given the events yesterday and the latest media reports this morning, do you have concerns...
PRIME MINISTER: Are we dealing with surf club and local issues first? If there are any questions on that Mark is here to take those as well if you want. I'll take it that everybody is as excited about that as they are about the grand final on Sunday down here in Bondi. Ok thanks, Mark, appreciate you being here, good on you. Happy to take other questions.
JOURNALIST: Given the events of yesterday and media reports this morning, do you have concerns about the rest of the ABC board and do you think they should [INAUDIBLE]?
PRIME MINISTER: Well, look there is nothing before me that would suggest that. The Department of Communications is completing the work that Minister Fifield and I initiated the day before yesterday and they'll complete that work. But I think it's important for the ABC to restore normal transmission as quickly as possible. Kirstin will be able to step up into that role as recommended and I think restore some stability there which is very necessary and it's important that the ABC maintains its independence. It is also important that the ABC maintain a very unbiased approach to how it reports things. That it gets it right and gets the facts right and Australians, I think, rightly have high expectations of the ABC on all of these things and it is up to the board to make sure that they deliver.
JOURNALIST: Should the way the ABC board is appointed be changed to safeguard independence and avoid political appointments?
PRIME MINISTER: The ABC board appointments process has a quite a rigorous set of requirements around it currently. It's just not a process of whacking a few names together and making a decision. There is quite a process that now needs to be followed and that will be followed. That will make recommendations to the Government and the Government will take things from there.
JOURNALIST: So you don't think that it's clear that the rest of the board knew what was going on and why should, if that's the case, why should they stay when Mr Milne had to go?
PRIME MINISTER: Well, all I'm saying is there is nothing before me, no evidence before me, that would suggest that and I haven't seen any presented in the public arena either with any real veracity. So I think it's important that, you know, after the events of this week, I think the former chair made the right decision under these circumstances and given what was around and we were in the middle of conducting our own review into this, to determine what the facts were. That's effectively now been preempted by his decision and the board's decision, I think, they made the right call yesterday and I think it's important that they get back to work and they get on with the job.
JOURNALIST: Given that there's an efficiency review underway and also there's vacancies at both the ABC and SBS, could this be seen as an opportunity to make major changes at both broadcasters and would you rule out merging?
PRIME MINISTER: Well, the Government will just go about the process of sensibly and I think in a very patient way of filling these appointments in the appropriate way. We are always looking at policy issues in this area, but I don't think anyone should jump to conclusions based on that. There are some vacancies and there are some appointments to be made, but frankly right now, I just think it is important that the ABC gets back to work. They have just got to get back to work. And that's what I expect of them.
JOURNALIST: Do you think it has been damaging for the ABC?
PRIME MINISTER: I think it has been a pretty ordinary week for the ABC. Are there questions on anything other than the ABC? I'm sure the public are interested in more things than just the ABC, as interested as the ABC and others might be in it in the media.
JOURNALIST: Just on the Royal Commission, what are you expecting today in the findings? Are you expecting some damning findings?
PRIME MINISTER: The questions about the Royal Commission interim report which will be handed down today. We will be releasing that report today as I said we would. I'm not going to prejudge any of that and we will take a careful look at it when it is reported on and I'm sure the Treasurer will have a bit more to say about that later this afternoon. In the meantime, having commissioned the work, we will be looking carefully at what Commissioner Hayne is observing at this point. Whether he goes to the point of recommendations at this stage, we will know later today.
JOURNALIST: Given about 27 victims had their stories heard their stories heard out of around 9,300 submissions, don't you owe it to the victims to extend this inquiry?
PRIME MINISTER: Well, Commissioner Hayne has not asked for an extension. If he asks for an extension, then he will get one. But I do know that the Royal Commission has looked at every single one of the cases that have been presented to them and they have been considering all of those cases informing the views that they are forming and I'm sure that will inform the recommendations that they ultimately make. So I think that the Royal Commission has been very vigorous in looking at the details of all of these quite heartbreaking cases for many Australians and been giving them the weight that is necessary.
JOURNALIST: What do you think about facial recognition technology to scan social media profiles being used in airports, is that going a little bit close to how the Chinese are using?
PRIME MINISTER: Our Government will do everything we need to do to keep Australians safe. That's our record. I want to keep our economy strong. This is what, when you're thinking about Wentworth, these are the things. We have got to our keep our economy strong so we can guarantee the services that Australians rely on, like Medicare. We mean what we say about Medicare. Secondly, we want to keep Australians safe, and that means using the tools and resources that are available to us and investing in the agencies that keep us safe, whether it's returning foreign fighters from overseas or whether it's, you know, dealing with threats that exist right here in Australia. Our Government has an outstanding record on keeping Australians safe and they can be absolutely assured that our Government will continue to do that. And thirdly, we want to keep Australians together and make sure we're working together to make the country even greater than it is.
JOURNALIST: The strategic partnership with submarines, will that agreement be signed by the next election?
PRIME MINISTER: The timetable for that has already been set out and we're working to that timetable.
JOURNALIST: So is that a yes it will be signed before the next election?
PRIME MINISTER: I'm saying we're working to the timetable we set out.
JOURNALIST: Just on school funding, Dan Tehan came out the other day and set the deadline for the states. Do you have any thoughts about the school funding and how it's going to work with the states going forward?
PRIME MINISTER: We will be delivering on every cent, every single cent, every dollar that we've committed and we've legislated to provide to public schools and for state schools, I should say, and non-state schools, Independent schools, we'll deliver on every cent and every dollar and our commitment for state schools sees our investment growing by over six per cent a year. That's stronger than it is for non-state schools and we've been able to address, as Dave and I were together last Friday, some of the problems that there were with the funding for non-state schools. As you know the Commonwealth is principally responsible for the funding of non-state schools. We have ensured now that those parents who are making the choice to send their children to non-state schools will have that affordable option and that the funding will be based on a needs basis like everywhere else, looking at the precise and specific circumstances of the parents in those schools and that's a very important issue in Wentworth. There are a lot of parents in Wentworth, whether they are sending their kids to Moriah College of sending their kids to Waverley College or they're sending their kids wherever it happens to be right across the eastern suburbs. Their choices should be respected and as a Government we've always respected them and I think Dave is the only candidate in the Wentworth by-election who really understands and gets the need to respect the choices that parents are making about their kid's education.
JOURNALIST: The Victorian Education Minister says your Government held a gun to their head on school funding. Was threatening states with cutting off funding if they don't reach a deal the right tactic?
PRIME MINISTER: Well, what we'll be doing is making sure that every single cent we've legislated, that more than six per cent increase in state school funding right across the country, will be delivered. We're going to provide the funding. We're going to provide every cent. Every dollar. That's my commitment.
JOURNALIST: The tactics that you used to reach that agreement, are you happy with what was used?
PRIME MINISTER: What I'm saying is every cent will be delivered. I can't make it any clearer.
JOURNALIST: If they refuse to administer that funding, how are you going to…?
PRIME MINISTER: The states, we've got an issue we're still trying to resolve with the states which goes to what makes up their share and I think we'll be able to resolve that. I'm very confident about that and we'll take a very practical approach to that. I mean what we're putting in, that's not under question. That will be delivered. Every cent, every dollar. And how you compose the state share of that, I think, there are genuine issues which have been raised by the states and territories. They were dealing with me on those issues as Treasurer and so I think we will be able to resolve those issues, yeah. But when it comes to our overall commitment, we have done the right thing by state schools, we've done the right thing by non-state schools. We've done the right thing by needs-based funding and we've done the right thing by parents who want to make the right choices for their kids.
JOURNALIST: What is your problem with David Littleproud's push for a specific agricultural visa? Why not just sign off on it?
PRIME MINISTER: What we're doing is working to address the immediate labour needs in the agricultural sector and the best way to achieve that is by the mechanisms we're now working on. Now, a longer term approach is something we're very open to pursuing. So I think there has been a bit of a beat up around that, frankly. I think people have got the wrong end of the stick on that.
JOURNALIST: And just on Dave Sharma, obviously today we're seeing the ballot draw. Are you hoping for a lucky spot for Mr Sharma, top of the ballot?
PRIME MINISTER: Well, whatever ranking Dave has on the ballot draw today, he will always be the number one candidate. Because he has the life experience that has taken him from being an immigrant to Australia to an ambassador for Australia. I mean that is quite a journey and that journey is just getting going when it comes to Dave Sharma's contribution to public life. With Dave Sharma, what you see is what you get. With me, what you see is what you get, and with independents, you never know what you're going to get. Thanks very much.
JOURNALIST: Got a tip for the weekend Prime Minister?

PRIME MINISTER: Look, my team is out of it. Sadly. You know, I'm getting over it. Struggling through, but having grown up in the eastern suburbs, Roosters were never my team, but as a Sydney boy, I'll back the Sydney team. Cheers.