Written by

Stephen Duckett, Director, Health Program, Grattan Institute
Australians will be able to choose lower premiums for higher excess, and insurers required to more clearly categorise their policies, under the federal government's shake up of private health insurance announced today.
The package of more than a dozen changes to the sector is designed to help reduce costs to government in the medium term and establish processes to identify further reforms in the longer term. The dominant strategy here is to draw more young people into buying health insurance.
The changes consumers will notice are choices to lower premiums, labels on policy packages, discounts for young people, mental health provisions and travel benefits for rural residents. The announcement also includes savings for funds, and potentially government.
Read more: A snapshot of private health insurance in Australia
But these changes are unlikely to lower premiums in the long run. The value proposition for the funds relies on them getting young people who don't use health care much, to pay for a product they are unlikely to use.
Changes for consumers
Customers will be given the option to increase their excess limit if they want to pay a lower premium. The maximum excess for singles is currently A$500 - that will be lifted to A$750. Families will be able to increase their limit from A$1,000 to A$1,500.
Fulfilling an election promise, the government is requiring private health insurers to label their package, so it's clear what's in and what's out. Gold products will cover everything, Silver will have a deductible (excess), Bronze will have exclusions (packages where some conditions, such as orthopaedics or obstetrics aren't covered) and Basic, well, who knows. No details about combinations and permutations have been announced.
So, unfortunately, we should expect further product differentiation, and perhaps a quick return to the same choice overload of policies we have today.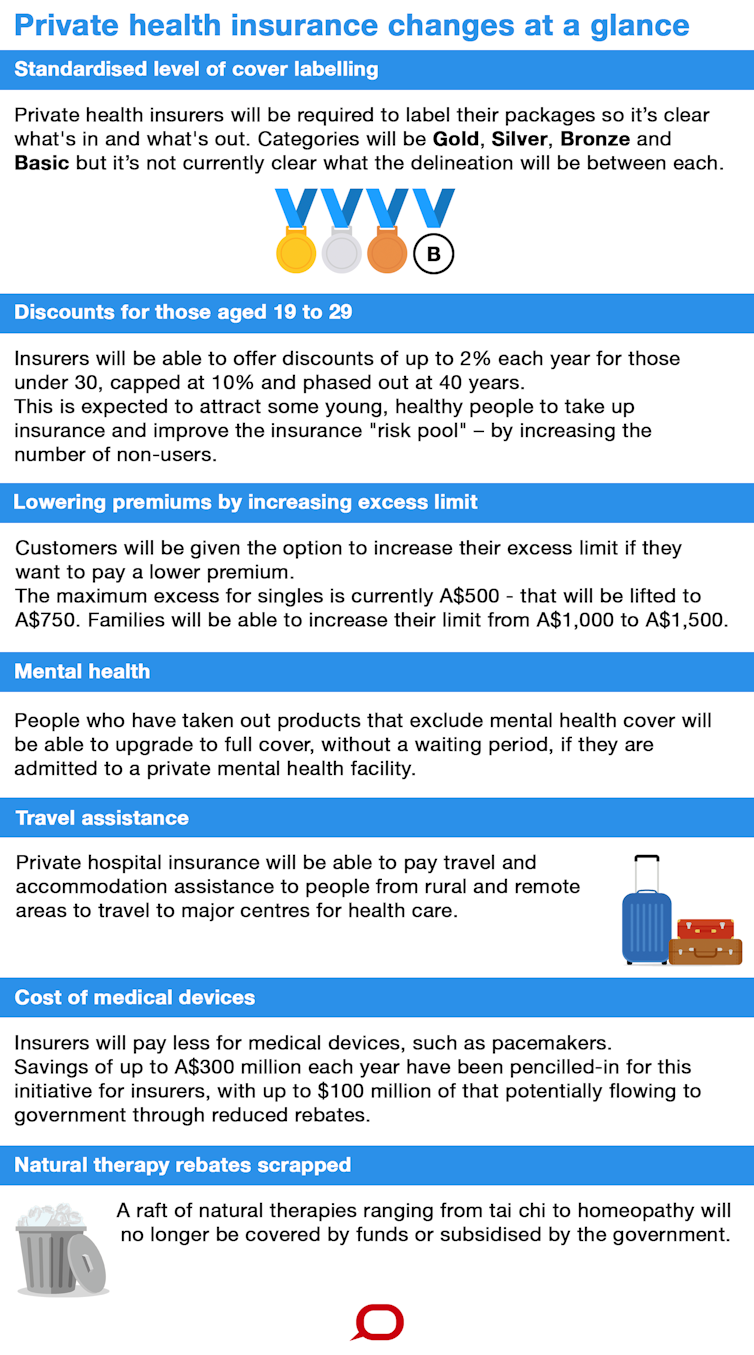 Authors: Stephen Duckett, Director, Health Program, Grattan Institute
Read more http://theconversation.com/changes-to-lure-young-people-into-private-health-insurance-wont-slow-increase-in-premiums-85663