Written by

Adrian Beaumont, Honorary Associate, School of Mathematics and Statistics, University of Melbourne
More than 7.8 million people voted "yes" to same-sex marriage (61.6% of clear responses) beating the 4.9 million "no" voters (38.4% of responses). But New South Wales had the lowest "yes" vote as a result of western Sydney electorates with high immigrant populations voting against.
A total of just over 12.7 million (79.5% of the electorate) participated in the survey overall.
The ACT led the "yes" vote with 74%, followed by Victoria (64.9%), Western Australia (63.7%), Tasmania (63.6%), South Australia (62.5%), Queensland (60.7%), the NT (60.6%) and lastly New South Wales (57.8%).
The seven highest "no" votes by electorate were all in western Sydney, with "no" winning at least 59% in all seven of these electorates. "No" won 74% in Blaxland, 70% in Watson, 65% in McMahon, 64% in Werriwa, 64% in Fowler, 62% in Parramatta and 59% in Chifley. However, "yes" won 75% in major "no" supporter Tony Abbott's Warringah.
These seven strongest "no" electorates in Western Sydney also all voted Labor by large margins in the 2016 federal election.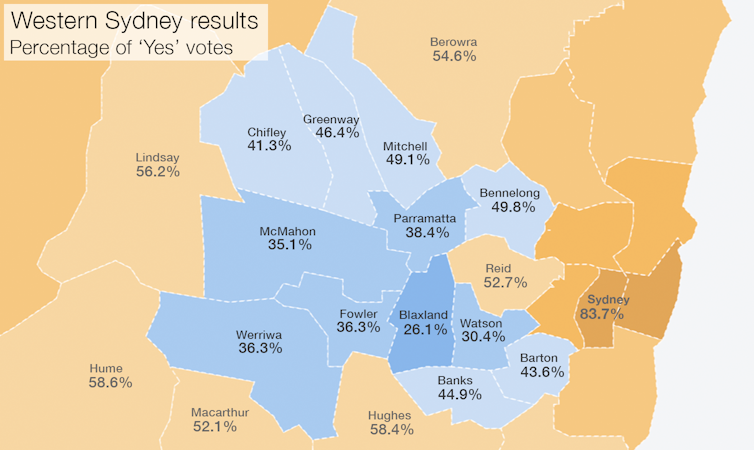 Authors: Adrian Beaumont, Honorary Associate, School of Mathematics and Statistics, University of Melbourne
Read more http://theconversation.com/same-sex-marriage-survey-by-the-stats-a-resounding-yes-but-western-sydney-leads-no-vote-87258