Written by

Holger Robert Maier, Professor of Civil and Environmental Engineering, University of Adelaide
Tomorrow's risk is being built today. We must therefore move away from risk assessments that show risk at a single point in the present and move instead towards risk assessments that can guide decision makers towards a resilient future. – Global Facility for Disaster Reduction and Recovery (2016)
But how can we do this? What decisions can we make today that will reduce the future risk of natural hazards, especially in a time of climate change? As an example, let's take Adelaide, the South Australian capital, which is home to about 1.3 million people. We modelled five different plausible futures for greater Adelaide to explore the impacts of different risk-reduction strategies.

Author provided
When considering natural hazard risks, most people think about bushfires and floods. These risks are likely to get worse as a result of climate change. While we certainly need to act now to reduce climate change impacts, this is largely beyond the control of local governments.
But
In Adelaide, for instance, if we allow more people to live near rivers, they are more likely to be exposed to floods. And if more people live in the Adelaide Hills, they are more likely to be exposed to bushfires.
Further reading: Higher density in a flood zone? Here's a way to do it and reduce the risks
Given the city's population is expected to grow, land use planning is an essential aspect of hazard risk reduction. Planning should ensure that development occurs in areas where hazards are less likely to occur – if there are no people or buildings in areas prone to bushfires or floods, then there is no risk.
Local governments can also make decisions now that are likely to increase the resilience of communities and buildings that are exposed to hazards. For example, if building codes in Adelaide are changed today to require that all new buildings in bushfire-prone areas are built from non-combustible material, bushfire risk is unlikely to increase significantly. The risk might even decrease as old building stock is renewed.
Similarly, community education and campaigns to increase volunteering rates can increase long-term community resilience.
So the key to reducing risk is to understand that natural hazard risk is a combination of hazard, exposure and vulnerability (Figure 1).
Figure 1: Elements of natural hazard risk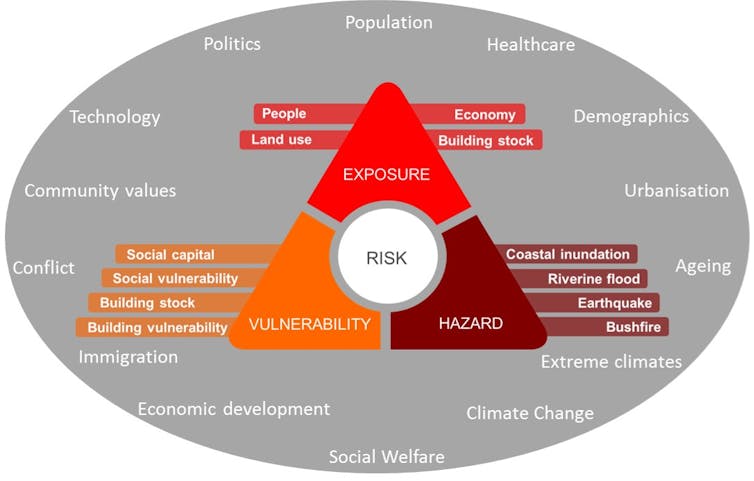 Authors: Holger Robert Maier, Professor of Civil and Environmental Engineering, University of Adelaide
Read more http://theconversation.com/natural-hazard-risk-is-it-just-going-to-get-worse-or-can-we-do-something-about-it-84286