Written by

Michael Henderson, Associate Professor in Educational Technologies, Monash University
Educators and students often struggle to learn from each other through the use of feedback. Our research into feedback practices has found that students and staff find feedback practices largely unsustainable, de-motivating and without opportunity for improvement.
Researchers generally describe current feedback practices as lacking in detail, difficult to understand, ambiguous or simply unusable.
The 2015 Graduate Course Experience surveyed over 93,000 students within four months of their graduation. It reported that while close to three quarters of graduates felt the feedback they received was helpful, 16.3% could not decide if the feedback was helpful, while a further 9.7% found the feedback unhelpful. Clearly something is wrong when a quarter of our graduates indicate feedback is not working.
The Australian Government funded Feedback for Learning project surveyed 4,514 students and 406 staff across two universities. It revealed that while students are generally satisfied with their feedback, there are a number of cohorts, or practices, that need attention.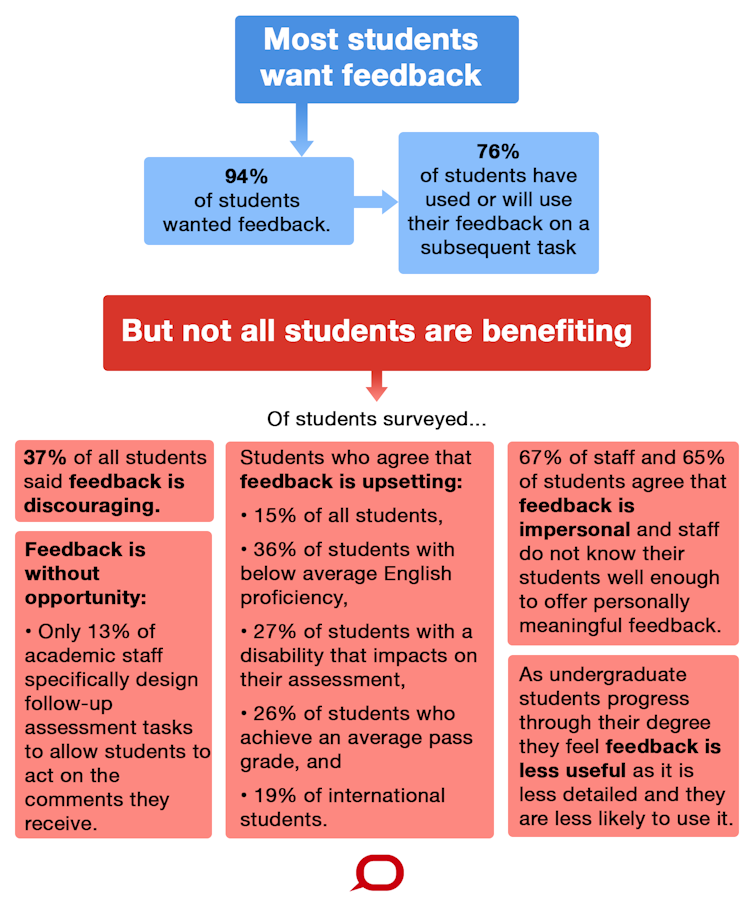 Authors: Michael Henderson, Associate Professor in Educational Technologies, Monash University
Read more http://theconversation.com/universities-are-failing-their-students-through-poor-feedback-practices-86756