Written by

Cherine Fahd, Senior Lecturer Photography, School of Design, University of Technology Sydney
In the early 1900s, international tobacco companies produced cigarette cards both to strengthen soft cigarette packets and to promote their brand. The cards often pictured soldiers, planes, boats or sporting heroes, and smokers were encouraged to collect whole sets.
In 1928 Major Drapkin and Co., a tobacco company once based in London, produced a uniquely different set from those described above. A series of 36 exquisitely printed black and white photographs called "National Types of Beauty" portrayed women of various races, who according to the British colonial eye exemplified the beauty of a given country.
On the front of each card, a black and white portrait depicted the chosen "beauty". On the back she was classified according to facial appearance, colouring, class, level of education, and nationality. For example, the Greek beauty was described thus:
This happy, pleasing picture represents Grecian beauty of the present day. One characteristic is that the nose appears to continue straight down from the forehead.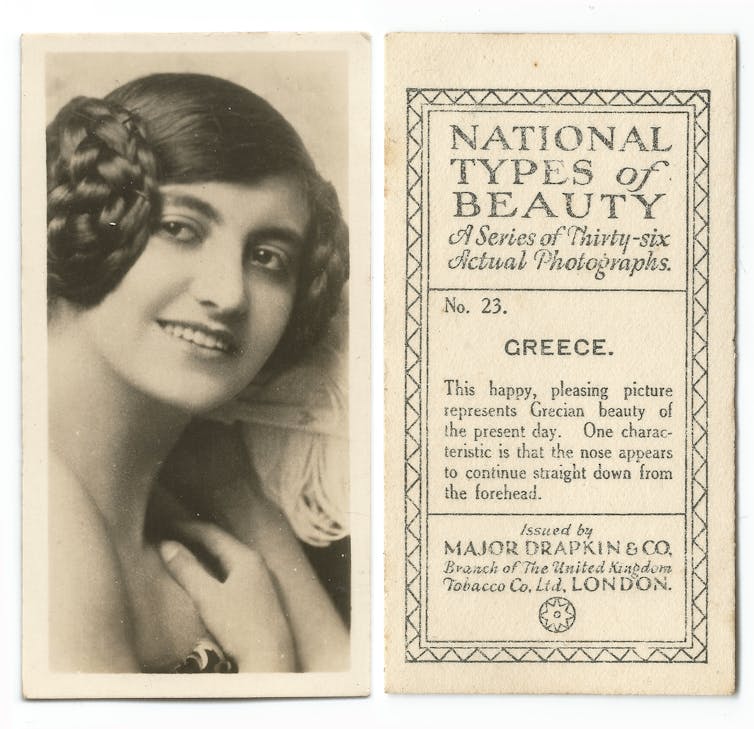 Authors: Cherine Fahd, Senior Lecturer Photography, School of Design, University of Technology Sydney
Read more http://theconversation.com/classifying-national-types-of-beauty-from-cigarette-cards-to-miss-universe-88154