Written by

Molly Glassey, Audience Development Manager, The Conversation
Last week, The Conversation left the confines of a newsroom and jetted across Australia to bring audiences our live Conversation Starter series.
From the future of AI, IVF and CRISPR, to the state of our nation, all things #auspol and an interesting take on why we shouldn't be naming dogs 'Ian', these Conversation Starters saw some of Australia's top experts front sell out crowds while dissecting and discussing the year that was.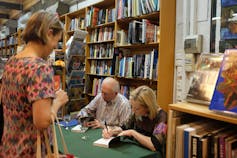 A big thank you to all those who were able to make the events in Wellington, Brisbane, Melbourne, Adelaide, Perth and Sydney. We had a packed crowd at The Greek Club in Brisbane (thanks to Avid Reader), an intimate affair at Curtin University's heritage Boys School in the heart of Perth and an oh-so-Melbourne outdoor event at MPavillion, featuring Michelle Grattan and craft beer.
An even bigger thank you to Professor Peter Newman, Dr Hannah Brown, Professor Fabrizio Carmignani, Hugh Mackay and our very own Michelle Grattan for making the time to represent The Conversation in these sell out events.
If you missed out on tickets (or had no idea we were even coming to your neighbourhood) be sure to subscribe to our newsletter.
But for now, don't fret. We recorded our Melbourne, Sydney and Adelaide events, so sit back and enjoy.
Hugh Mackay and The Conversation's FactCheck editor Lucinda Beaman discuss the state of our nation.
Michelle Grattan and The Conversation's Politics and Society editor Amanda Dunn discussion the year in #auspol
Dr Hannah Brown and The Conversation's Science and Technology Editor Dr Sarah Brown discuss the year in science
Did you attend one of our Conversation Starters? We'd love to hear your feedback. Email molly.glassey@theconversation.edu.au
Authors: Molly Glassey, Audience Development Manager, The Conversation
Read more http://theconversation.com/miss-out-on-our-live-conversation-starters-we-have-you-covered-89364