Written by

Hassan Vally, Senior Lecturer in Epidemiology, La Trobe University
Humans are much worse at estimating risk than we think we are. While we overestimate the risk of rare but catastrophic occurrences, such as being attacked by a shark, many of us seriously underestimate the risk of behaviours that reduce our lifespan, such as smoking.
These errors of judgement are potentially costly, leading to bad decisions and many premature deaths.
Now there is an app designed to help us avoid rushing toward an early grave. Risk Navigator allows you to select an activity and find out immediately, in clearly understood terms, the risk (or benefit) this has on your health.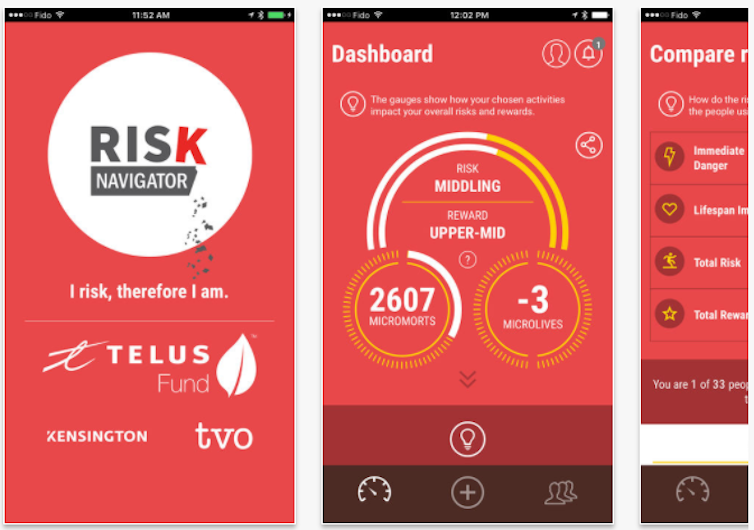 Risk Navigator
Read more: What's most likely to kill you? Measuring how deadly our daily activities are
To get full value from the app it is important to understand that there are two types of risk: acute and chronic. Acute risks are those that may kill you immediately, such as a car accident.
Chronic risks don't kill you immediately but rob you of your life a little at a time. If you choose to eat an unhealthy diet, for instance, you may appear to be getting away with this, but you risk developing illnesses in future that may shorten your life.
The problem is we value things a whole lot less when they occur in the future. Distant events are abstract – we don't know how and when they might affect us – so we care less about them. This is is known as temporal discounting.
How it works
Acute risks can be measured in a unit called "micromorts", which represents a one in a million chance of death. It's a simple way to convert acute risks into units that are easy for us to understand.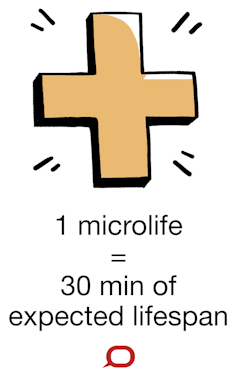 Authors: Hassan Vally, Senior Lecturer in Epidemiology, La Trobe University
Read more http://theconversation.com/stay-on-the-couch-or-go-for-a-run-theres-an-app-that-can-calculate-the-bigger-risk-86846