Written by

Sarah Hayes, Research Fellow in Archaeology and History, La Trobe University
Sex work was one of the major ways poor women could earn a reasonable income in the 19th century. Especially unmarried women with babies. But we don't hear people say "my great-great-grandmother was a sex worker". Nor do we often meet these women in our history books. Social stigma belies the importance of prostitution in providing an independent living, and even property ownership, for numerous women in this period.
Prostitution is often lumped together with crime and slums in the historical imagination, but it wasn't illegal in gold rush Victoria. Nevertheless neighbours in the "respectable" suburbs complained if women danced in the streets or appeared without a bonnet or showed their petticoats, so the police tried to confine sex workers to particular areas.
"These women must live somewhere", the police said in the superintendent's 1874 report, and that "somewhere" was the Little Lon district in Melbourne CBD's north east corner, where the "dressed girls" were kitted out and lived in the "flash brothels" under the supervision of madams, and the less expensive street-walkers took their customers to the "short-time houses" and timber cottages in the back lanes.
Perhaps the most famous inhabitant of this patch was Madame Brussels and her Bellevue-Villa, still commemorated today with a bar of the same name on Bourke Street.
Clientele came from everywhere and every class, but proximity to the all-male enclave of parliament and treasury was a distinct advantage for these fancy brothels. Despite being legal, though, women had to keep quiet or risk arrest and imprisonment under laws against "disorderly behaviour" and "vagrancy".
The area has been extensively excavated by a series of archaeological projects over the last 30 years, and our recent intensive research on the artefacts recovered (held at Museum Victoria and Heritage Victoria) is revealing much more about the brothels and the women who owned them that had disappeared from memory.
Mrs Bond's flash brothel
The brothel owned by one Mrs Bond on Lonsdale Street was so quiet that no-one knew it was there until archaeologists dug up her back yard in 1988. The excavators speculated that the site had been a brothel and our work on the artefacts has confirmed it.
Alicia Bond arrived in Little Lon from Ireland as a widow but with a de facto husband suffering from tuberculosis. In 1862 she had three young children to support, and when her son attacked her de facto husband she reported at the trial that "she could not see her children starve".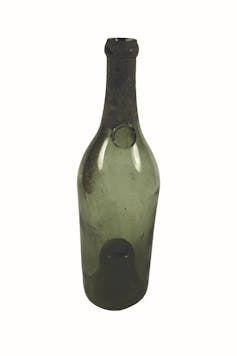 Bronwyn Woff
She "had at first taken in washing", she said to the court, "and then had to keep a brothel to support the family". She started by renting a back lane cottage for a brothel, and eventually bought her own house on the main street and opened a grocery shop. She then poured her earnings into buying cottages which she rented out to other sex workers.
This cover was very effective and the only reason we know about her brothel is because the artefacts recovered included an uncommonly large number of bottles (champagne (77), imported spirits (4) and absinthe (10)) amongst the rubbish in her back yard, together with over 300 oyster shells. Archaeological evidence shows Melburnians often ate oysters at this time, but they seemed particularly popular at brothels.
Such luxury items were typical of the higher class brothels, where the selection of dinner services and drinking glasses projected middle class status in order to create a familiar environment and attracted a wealthier clientele than the back lane cottages. Mrs Bond's brothel was not in the class of Madame Brussels', but it had at least eight rooms and a prominent Lonsdale Street frontage.
Mary Williams's disorderly house
Around the corner and down a side street, Mary Williams rented two very basic, detached two-room cottages from Mrs Bond. Rubbish discarded in her cesspit indicates a very different class of brothel. There were no imported champagne or absinthe bottles here, only beer/wine bottles (90), two gin/schnapps bottles, one cognac bottle and 165 oyster shells.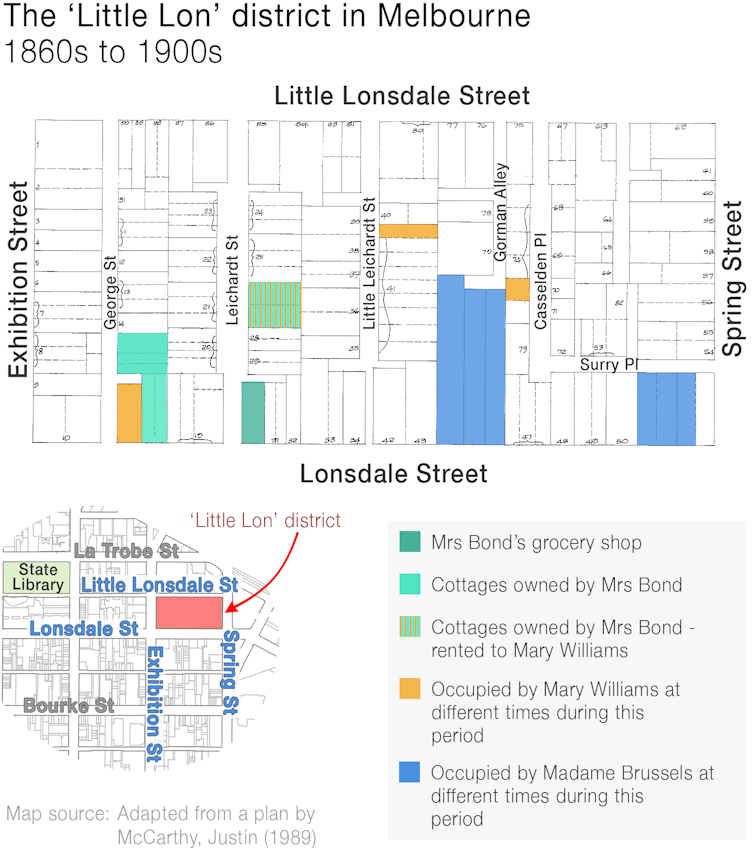 Authors: Sarah Hayes, Research Fellow in Archaeology and History, La Trobe University
Read more http://theconversation.com/sex-and-the-sisterhood-how-prostitution-worked-for-women-in-19th-century-melbourne-89858