Written by

Hayley M Passmore, PhD Candidate and Researcher, Telethon Kids Institute
Nine out of ten people in Western Australian youth detention are severely impaired in at least one area of brain function such as memory, language, attention, and executive function (planning and understanding consequences). Such deficits would strongly impact on their ability to conform with legal instructions, and with other aspects of the justice system such as being interviewed in court.
Our new research, conducted in WA's only detention centre and published today in the journal BMJ Open, also found one in three of the young people assessed had fetal alcohol spectrum disorder (FASD). This is a lifelong and severe disorder of brain development that occurs as a result of exposure to alcohol in the womb. This is the highest known rate of FASD among any population involved in the justice system worldwide.
Read more: Indigenous youth with foetal alcohol spectrum disorder need Indigenous-run alternatives to prison
While we know damage to the brain occurs from prenatal exposure to alcohol with FASD, the causes of other impairments responsible for the high rate of functional deficits we found are complex. They can include accidents, infection and nutritional problems.
Most impairments had never been recognised or managed appropriately by any of the agencies these young people had previously been involved with – including health, education and child protection services. We recommend every individual be comprehensively assessed at first contact with the justice system, and provided with a management plan for effective intervention.
Who are the young people in detention?
Our team from the Telethon Kids Institute assessed 99 youths in detention for nine areas of function. These were: academic function (such as reading, writing, spelling and maths), attention and sensory processing, executive function, language, memory and learning, motor skills, cognition (intellectual ability), brain structure (determined by a clinical investigation), and daily living skills (adaptive function).
Adaptive function is difficult to assess in detention settings, so the levels reported here are an underestimate.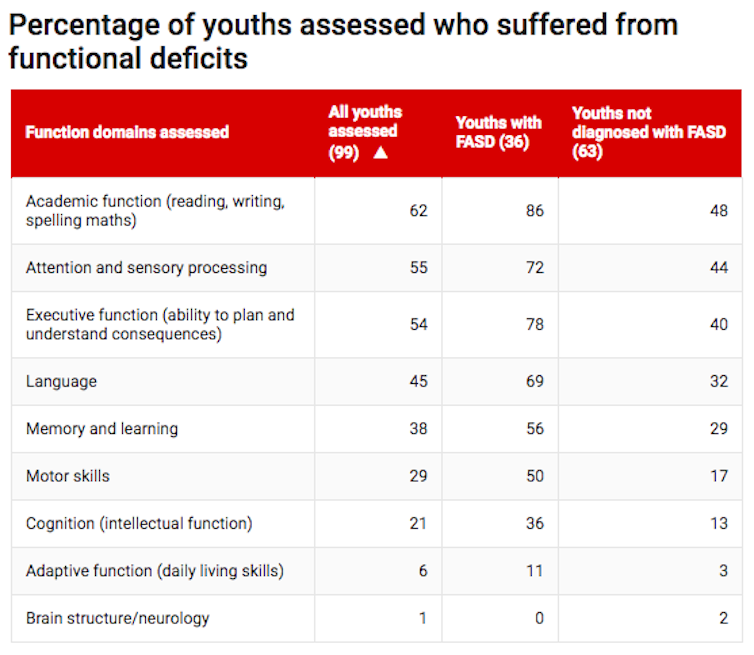 Authors: Hayley M Passmore, PhD Candidate and Researcher, Telethon Kids Institute
Read more http://theconversation.com/almost-every-young-person-in-wa-detention-has-a-severe-brain-impairment-90695