Written by

Jade Haycraft, PhD Candidate, Victoria University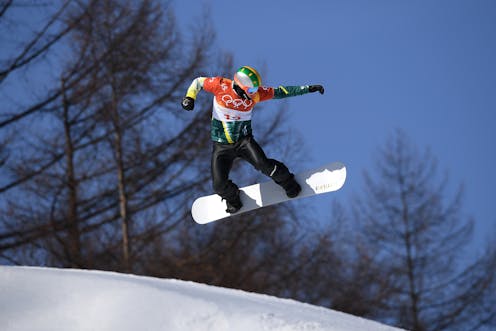 Australian Jarryd Hughes won a silver medal in the men's snowboard cross event at the Winter Olympics in Pyeongchang on Thursday. This is Australia's third medal at these Games, adding to Matt Graham's silver in mogul skiing and Scotty James' bronze in the snowboard halfpipe.
This is the first medal for Australia in this event at a Winter Olympics, despite having been competitive on the world stage for several years.
Physical differences between disciplines
Some of the physical test predictors of a successful snowboarder differ among the snowboarding disciplines (parallel, snowboard cross, and halfpipe) and genders.
For men, the only test that proved to have a strong influence on performance was a countermovement jump for halfpipe. But when looking at overall World Cup points for males (regardless of discipline), greater bench press and bench pull strength were found in athletes with higher point scores.
For women, the physical influences differ across snowboard disciplines. In parallel snowboarding and overall World Cup points, performance can be associated with leg power on a bicycle ergometry test. Snowboard cross performance is influenced by maximum push-off speed, but halfpipe does not have a link with any particular physical test.
Read more: How snow-deprived Aussies can win in snowboard cross and ski-cross in Pyeongchang
Injuries
Several competitors crashed out of the men's snowboard cross event in Pyeongchang. Australian Cameron Bolton put in a brave effort and competed with a heavily taped wrist.
Hughes has had to overcome five knee surgeries throughout his career. Given he is just 22, this only highlights the risk these athletes face every day in their sport.
The snowboard cross has the highest incidence of injury during competition among snowboarding disciplines, with 11.9 injuries per 1,000 runs. It also has a higher risk of severe injury – those that cause an athlete to miss more than 28 days from training or competition.
Like the snowboard halfpipe, the most common injuries are to the knee and spine. However, snowboard cross has a greater shoulder injury rate.
Read more: What makes a winning halfpipe snowboarder like Scotty James?
It's clear that all snowboard disciplines require athletes to overcome fear of serious injury. But what is it that makes snowboard cross one of the riskiest snowboard competitions?
Racing tactics and anticipation
The main difference between the snowboard cross and other snowboard disciplines is the pack racing element.
Athletes who participate in halfpipe, big air, slopestyle, and parallel giant slalom all compete in their own personal space without the need to anticipate and adapt to their competitors' movements.
In these sports the athletes can mentally prepare ahead of competition runs as they already know what performances are needed to win. They have the time before a run to work through their performance plan and make any necessary changes.
Snowboard cross athletes also prepare their race tactics, such as the best racing lines to take and managing features of a given course. But they are also required to read fellow competitors' movements and react and adjust movements accordingly.
This is referred to as perception-action coupling: an athlete's ability to use information from their environment and find the most accurate and efficient movement to produce a successful performance – just like a football goalkeeper reading the play in front of them and reacting to block the ball.
The same concept applies to snowboard cross. A snowboard cross athlete may have an optimal race line, but different situations can interfere with holding this line. Examples would be: a fellow competitor cutting them off, getting too much air off a jump, hitting a difficult patch of snow and losing some control. As a result they have to constantly react to the changes in their environment.
It is not that other snowboard disciplines don't use perception-action coupling in their own sports. They just don't have the stimulus of fellow competitors at close quarters during their performances.
What makes the snowboard cross competitors more susceptible to serious injuries is this ever-changing environment created with their fellow competitors. Athletes are at the mercy of their own ability and their competitors' ability to react and control high-speed situations.
Authors: Jade Haycraft, PhD Candidate, Victoria University
Read more http://theconversation.com/what-makes-a-winning-snowboard-cross-athlete-like-jarryd-hughes-91927