Written by

Jenni Downes, Research Consultant, Institute for Sustainable Futures, University of Technology Sydney
Federal Environment Minister Josh Frydenberg is meeting with his state and territory counterparts today. Top of their agenda? The recycling crisis precipitated by the China "ban".
States and councils around the country have been struggling since the imposition of import restrictions that exclude 99% of the recyclables that Australia previously sold to China.
Read more: Curious Kids: Where do my recycled items go?
Hopes are high that the federal government will step in and take a clear role. Proposed solutions include investing in onshore processing facilities and local markets, incentives or mandates to use recycled content, and grants and rebates for innovative approaches that go beyond recycling to designing for prevention and reuse.
But what is the ban and why is it such an issue?
What is the China 'ban'?
The "ban" is actually a set of import restrictions imposed by China under its Blue Sky/National Sword program. This follows its previous Green Fence program, introduced in 2011, which progressively tightened inspection efforts to reduce the amount of contaminated materials entering the country.
National Sword takes this a step further by restricting the importation of 24 streams of recyclable material. It does this by setting stringent "maximum contamination thresholds" and limiting the number of import permits provided to Chinese businesses.
Read more: Why you're almost certainly wasting time rinsing your recycling
Of key importance to Australia are the restrictions on paper and plastics, which now have contamination thresholds of just 0.5%. While not a ban in theory, this is virtually a ban in practice, because it is currently unachievable when processing household wastes like plastic.
How much of Australia's recycling is affected?
Recent estimates commissioned by the federal government suggest that of all recycling collected from households, business and industry in 2017, Australia exported 3.5% to China (some 1,248 megatonnes).
However, the proportion is much higher for two key streams from our household kerbside recycling: 29% (920 Mt) of all paper and 36% (125 Mt) of all plastics collected were exported to China in 2017. This represents around 65% of the export market for each. The contamination rate of Australia's kerbside recycling averages between 6-10% and even after sorting at a recycling facility is generally well above China's 0.5% acceptable threshold.
Australia has limited local markets for household recyclables like paper, plastics and glass, so we rely heavily on overseas markets like China to buy and reprocess the waste. Losing the market for a third of our paper and plastics – as have many other industrialised countries – has sent shockwaves through the global recycling market. Oversupply has caused the average price of mixed paper scrap to fall from around AU$124 per tonne to A$0 per tonne (yes, zero!). Scrap mixed plastics has fallen from around A$325 per tonne to A$75 per tonne.
For many recycling companies, this means that the money they can make from kerbside recycling will now be less than the cost of providing the service.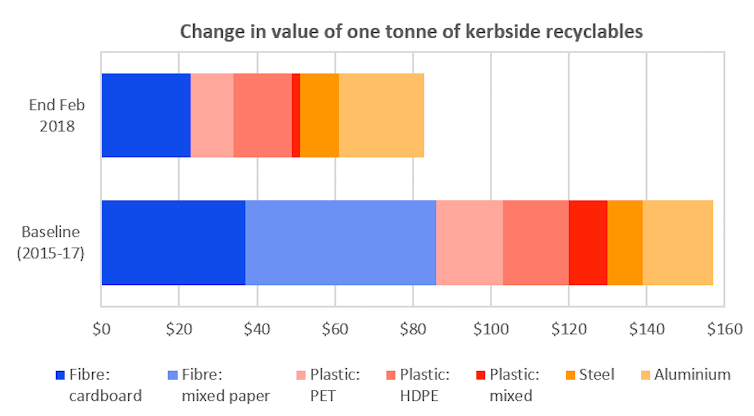 Authors: Jenni Downes, Research Consultant, Institute for Sustainable Futures, University of Technology Sydney
Read more http://theconversation.com/chinas-recycling-ban-throws-australia-into-a-very-messy-waste-crisis-95522