Written by

Steve Georgakis, Senior Lecturer of Pedagogy and Sports Studies, University of Sydney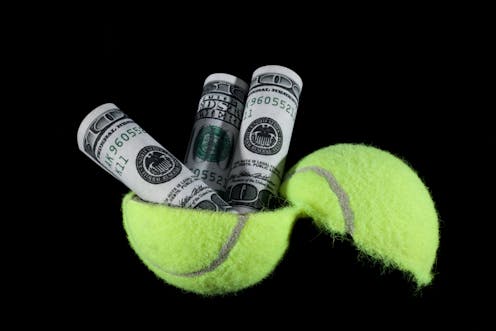 Stung by a highly critical report on the eve of the 2016 Australian Open that alleged deep-rooted corruption in tennis and a massive cover-up at the highest level, the sport's leaders made the bold move of appointing an independent panel to investigate the issue. But while the initial match-fixing report received considerable attention, the response by the integrity panel - a thorough review that took two years and $20 million to complete - has attracted far less media coverage.
This lack of attention might be a sign of things to come. The panel's recommendations may not get much traction among tennis' governing bodies, either.
Part of the issue is match-fixing in tennis is an entrenched problem without an easy fix. It was first flagged in 2005, when Richard Ings, then-head of the ATP's Anti-Doping Authority and its executive vice president, produced a report claiming the sport was at "a crossroads of credibility" and in tennis officialdom "there was a climate of silence and apathy towards corruption which made it difficult to address this growing problem".
Read more: Game, set and match-fix: what more can be done to stop corruption in tennis?
Apparently, his warnings went unheeded. In recent years, tournaments like the Australian Open have signed betting companies as sponsors. In 2015, the International Tennis Federation, one of the governing bodies of the sport, signed a $70 million agreement to sell live scoring data to a Swiss betting company called Sportradar. Tennis authorities have obviously understood the financial benefits associated with betting agencies, but perhaps underestimated the negative repercussions.
Tennis is now the fourth-largest sports betting market in the world, trailing only football, horse-racing and cricket. And the negative repercussions are being felt most clearly on the lowest rungs of the sport - the Challenger and Futures tournaments where lack of oversight and dismal prize money have created an environment conducive to match-fixing.
What the panel recommends
In its review, the integrity panel proposed numerous recommendations to address the corruption issues facing the sport. The recommendations are smart and forward-looking, but without the requisite political will among tennis authorities and an overhaul of the structure of the sport, they may fall on deaf ears. Among the main recommendations are:
Removing the opportunities and incentives for match-fixing
One of the biggest recommendations in the report is a ban on the sale of live scoring data to betting operators, especially at the lower levels of the sport.
Before this data became available, betting operators couldn't offer in-play markets unless they entered into a data sales agreement with an individual tournament or the matches were broadcast live. Live scoring data make it easier for betting operators to allow people to place wagers during matches, but it's unlikely that cutting off this source of information would have a significant impact on gambling overall.
Many other forms of betting would remain unaffected (for example, over-unders, line betting, specific scores in games, aces in games and other special betting categories offered by agencies), while televised matches could easily generate data independently.
Better educating players about match-fixing
The panel proposes introducing enhanced, mandatory integrity training for all players and other key stakeholders, such as coaches and administrators. It also recommends limiting match-fixers' access to players by improving the accreditation systems, facilities and security at tournaments.
These are good ideas, but they would be difficult and expensive to implement and enforce. Who would pay for the integrity education and how would you compel players to take part? And will players really be compelled to stop cheating by taking a class alone?
Players can be told the sport expects high ethical standards, but the sport's commercial partnerships (that is, its alignment with alcohol, gambling and junk food companies) tell another story.
Encouraging more legal action and prosecutions
The panel also proposes that national authorities make greater use of the criminal justice system to assist in the global fight against match-fixing, by enacting new laws and prosecuting offenders when possible. The governing bodies and national federations in tennis should certainly encourage this type of enforcement, but at the moment, this is a dream. The international nature of tennis and sports betting makes it extremely difficult to coordinate criminal cases across borders.
A long way to go
Tennis' governing bodies should be congratulated for taking the step of ordering such a review, as they are clearly starting to see that match-fixing has the potential to irrevocably damage the sport.
Read more: The terrible toll tennis can take on top players who play too much
But even if all of the panel's recommendations were adopted, corruption problems will likely persist because of the way betting agencies have completely infiltrated the sport. And these companies have considerable clout, both financial and political.
What is clear is that individual and idealistic attempts to stamp out match-fixing will struggle to succeed. It is simply too great an undertaking for any one sport, like tennis, to take on the now deeply invested gambling interests in sports. What is needed is cross-sport, cross-jurisdictional collaboration and coordinated reform to diminish the influence of gambling across all sports.
Authors: Steve Georgakis, Senior Lecturer of Pedagogy and Sports Studies, University of Sydney
Read more http://theconversation.com/if-tennis-really-wants-to-stamp-out-corruption-it-will-need-systemic-change-95872