Written by

David Levinson, Professor of Transport, University of Sydney
This is the fifth article in our series, Moving the Masses, about managing the flow of crowds of individuals, be they drivers or pedestrians, shoppers or commuters, birds or ants.
Traffic signals give priority to motor vehicles over pedestrians. This inequality undermines many of the stated goals of transport, health and environment policy.
State and city governments say they want to encourage walking and biking for many reasons:
it is space efficient
it has less environmental impact
it is healthier
it is safer for other travellers
it reduces the numbers of cars on the road, so even motorists should be in favour of other people walking.
To help achieve these goals, road management agencies should reprioritise traffic signals to redistribute delays at intersections from pedestrians to cars.
Planners tend to focus on the long-term decisions, like infrastructure and land development. However, it is the shortest of short-term decisions, how many seconds of green light each movement gets at an intersection, that shapes perception of the feasibility of walking or driving to a destination at a given time. This influences the choice of route, destination and mode of travel.
Traffic signal timing involves maths, so has been historically delegated to engineers. But it also involves values and priorities, and so is the proper subject of public policy.
Since the early 20th-century dawn of what Peter Norton calls "Motordom, street space has steadily been regulated and enclosed. This has limited the rights and privileges of pedestrians while promoting those of drivers, in the name of safety and efficiency. But safety and efficiency for whom?
Pedestrians once crossed the street whenever and wherever they wanted. The introduction of signals prioritised the movement of motor vehicles at the expense of pedestrians, which slowed effective walking speed through the city. Pedestrians now spend roughly 20% of their time waiting at intersections. The consequences of making it easier to drive and harder to walk are consistent with the rise of vehicle-dominated cities.
How the phases of traffic signals work
Pedestrians take longer to cross streets than cars because they are slower. As a result, the "don't walk" signal flashes before the light turns red.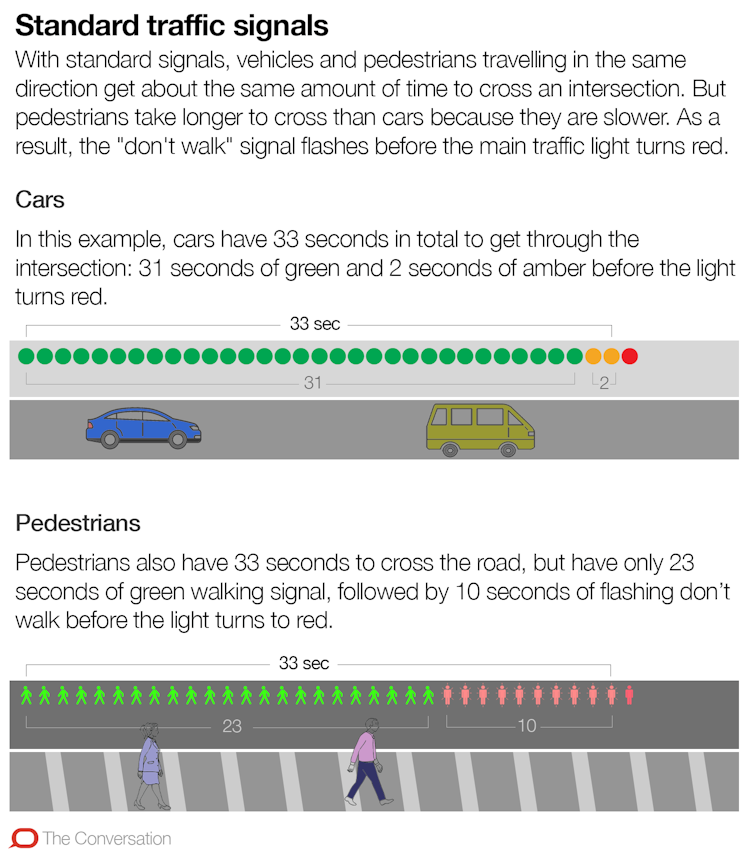 Authors: David Levinson, Professor of Transport, University of Sydney
Read more http://theconversation.com/how-traffic-signals-favour-cars-and-discourage-walking-92675