Written by

Ari Mattes, Lecturer in Media Studies, University of Notre Dame Australia
We queued up for hours on George Street, suffered the scoldings of officious State Theatre staff, battled through the sea of pedestrians at Circular Quay for Vivid – and, this year, it was all worth it: the 2018 Sydney Film Festival was outstanding. There was, as usual, a wide variety of films – mainly commercial narrative ones and documentaries – on offer. Of the 35 or so I managed to catch, the following, in no particular order, were the standouts.
Holiday
Holiday, a Danish-Dutch-Swedish co-production, follows some weeks in the life of Sascha (Victoria Carmen Sonne) as she summers on the Turkish riviera with her drug dealing sugar daddy Michael (Lai Yde) and his family. It is director Isabella Eklöf's first film (also co-written by her), and, in her study of this unconventional family, she convincingly avoids the kind of moralising sentimentality and irritating psychologising that characterises most "serious" narrative films.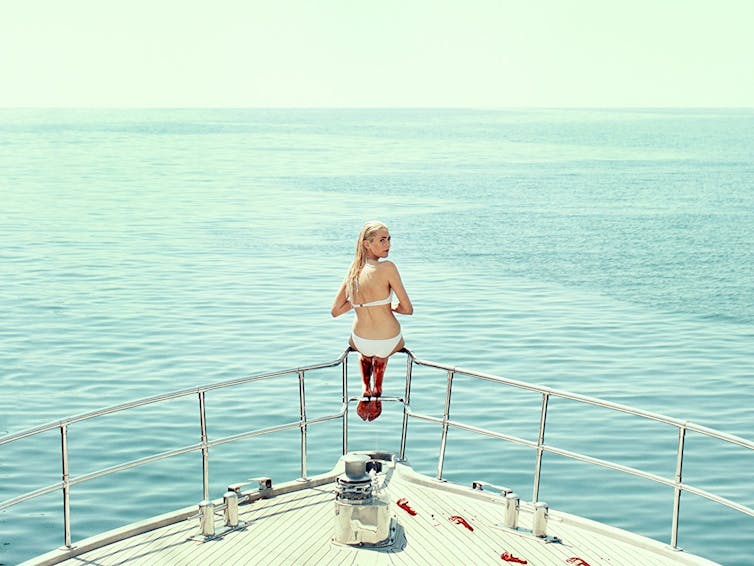 Apparatur Film, Common Ground Pictures, Det Danske Filminstitut
There is little character development in Holiday, and it appears, as we float along with it – on "holiday," as it were – as though the characters are amnesiacs, having forgotten what has occurred in earlier scenes. Rather than detrimental, though, this is the source of the film's ingenuity: we are so used to seeing formulaic narratives that perfectly follow a three-act structure, built around the "hero's journey," character arcs, and so on, that Holiday strikes one as refreshingly flat, playing with the affect of a postcard dipped in bright red blood.
The result is a hard-edged (if imperfect) exploration of existence in a consumer society in which everything develops the aftertaste of bubblegum, and the unfolding of time itself adopts the vapid pleasure of an endless holiday, despite the sinister, imminent violence of the everyday. Its non-judgmental examination of the erotics of power, furthermore, sets it apart from virtually every other film around at the moment. I highly recommend Holiday for anyone interested in the revitalisation of the affective potential of cinema in the digital age.
Transit
The narrative of Christian Petzold's Transit, based on the novel by Anna Seghers, follows Georg (Franz Rogowski) as he assumes the identity of a subversive writer and attempts to flee France before an unnamed invading power. The scenario is, of course, a familiar one from WWII. We've seen countless films before following people as they forge identity cards, book berths on boats, and develop precarious friendships whilst fleeing the Nazis.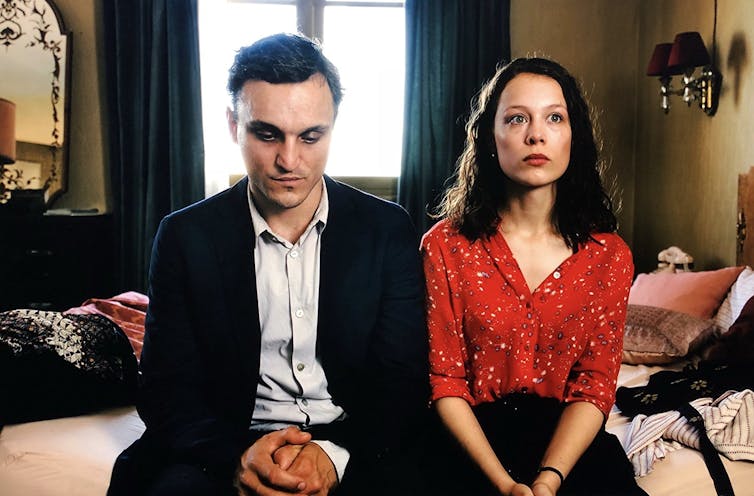 Schramm Film, Neon Productions, Arte France Cinéma
Unique to Transit is the fact that all of the settings and scenery appear contemporary. The collaborating French police, raiding hotels looking for sans-papiers, are bedecked in modern day flak jackets and helmets, carrying 21st century machine guns. The streets of Paris and Marseilles are covered in graffiti, and the automobiles are modern. Yet there are no mobile phones or computers, and writing letters still seems to be the dominant mode of communication.
The result of this crossing of two timescapes – WWII and the 21st century – is peculiarly disconcerting. The classic 20th century story is given renewed significance in the context of current refugee movements throughout Europe and the world, and the global rise of strong-armed, nationalistic governments.
This in itself would be the grounds for an engaging and challenging film; in addition, Transit (like Petzold's earlier Phoenix, 2014) is beautifully constructed, with picturesque images of Marseilles balanced by meticulous staging and understated performances, particularly by Rogowski in the lead role. Transit is an elegiac film – and demands to be rewatched.
The Kindergarten Teacher
Like many of the best comedies, The Kindergarten Teacher is replete with acutely uncomfortable moments and an overarching - and devastating - sense of pathos. As with Ingrid Goes West (2017) from last year's festival, parts of The Kindergarten Teacher are almost unwatchable – hilariously so.
The story follows Lisa Spinelli (Maggie Gyllenhaal), the eponymous teacher, as she develops an obsession with one of her students, five and a half-year-old Jimmy (Parker Sevak), who displays a sage-like capacity for creating poetry. Spinelli attends a poetry class herself, and, in contrast to her own mediocre work, she begins reciting Jimmy's poems to the acclaim of fellow students and teachers.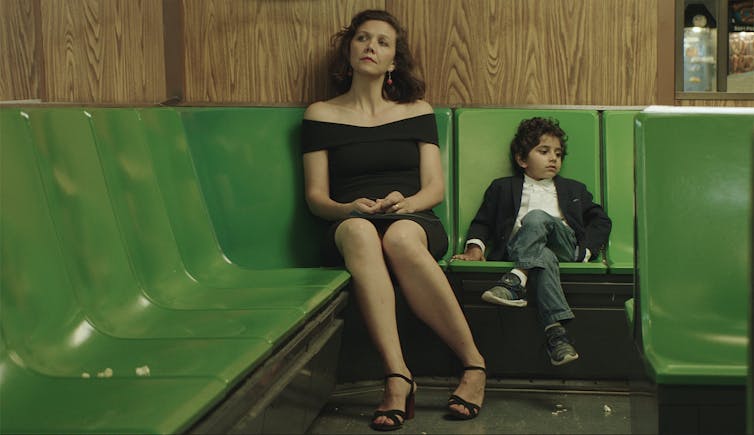 Pie Films, Farcaster Films, Imagination Park Entertainment
She realises that Jimmy is a resource too valuable to let slip through her fingers, and begins exacting poetry from him in an increasingly inappropriate fashion. Her interest gradually develops into an obsession, and Spinelli's distress with her life – her lack of talent, her mediocre job, her thankless millennial children, her tepid relationship with her husband – culminates in outlandish and illegal behaviour.
This film, in its relentless assault on both the myth of the creative genius and the individualistic culture in which we are all now embedded that demands greatness from all – and leaves many full of self-loathing – seems particularly pertinent to the 21st century. A work of comic genius.
Genesis 2.0
Christian Frei and Maxim Arbugaev's Genesis 2.0, which won a Special Jury Prize at Sundance, is an engrossing documentary that cuts between woolly mammoth tusk hunters on the remote New Siberian Islands in the Arctic Ocean and the development of corporate biotechnology - the brave new world of synthetic biology - in the US, South Korea and China. The latter includes the corporate dream of mapping the genome, through DNA sequencing, of everything on earth.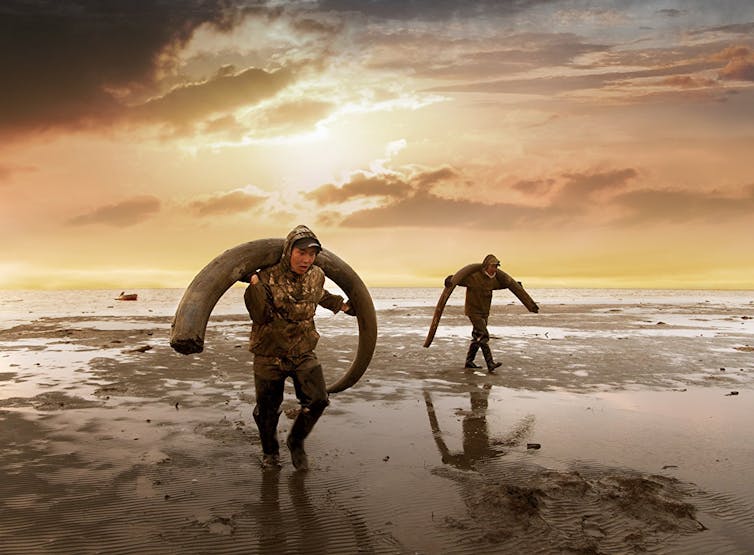 Christian Frei Filmproductions
The film brilliantly contrasts the labour of the tusk hunters – involving extreme hazards for often paltry reward – with the grandiosity of the technoscientists. It subtly reveals the arrogance of this biotech dream by revealing that the South Korean company's bread and butter is cloning people's pets for a mere fee of $100,000. This capital is then filtered back into the company's genome projects.
Two brothers, the focal figures of the film, tie the two worlds together in a striking amalgamation of past and future. One of the brothers, Peter Grigoriev, is a tusk hunter, the other, Semyon Grigoriev, is a paleontologist who hopes to find some DNA in order to clone the woolly mammoth, and who travels to China for this purpose.
The film isn't exactly polemical in its approach - it has the surreal quality of a Werner Herzog documentary - and this is one of its strengths. It makes its argument through contrasting different processes, relationships and economies. The result will cause even the most optimistic technophile to pause and think about the social and ethical implications of the private genetic mapping industry.
BlacKkKlansman
Spike Lee's latest film has been much talked about after it won the Grand Jury Prize at Cannes, and deservedly so. It is an extremely well-made film based on a fascinating true story, given extra weight through Lee's explicit consciousness of contemporary US racial politics.
The narrative follows Ron Stallworth (John David Washington), the first black officer in the Colorado Springs Police Department, as he launches an undercover investigation into the local Ku Klux Klan. Fellow detective Flip Zimmerman (Adam Driver) attends meetings in person, whilst Stallworth speaks to key Klan members, including ex-Grand Wizard David Duke (nicely played by Topher Grace), over the phone.
It's a killer yarn, and it would be difficult not to make a good film of it, as it effortlessly lends itself to humour as well as pathos. Lee approaches it as, basically, a cop film, and as a veteran of high-quality genre thrillers like Clockers (1995) and Summer of Sam (1999), he can effortlessly make this kind of film.
The final five minutes, however – which some may find heavy-handed – endow the film with contemporary significance. They are a montage of real footage of Trump condemning "both sides" of the lethal violence in Charlottesville; of David Duke praising Trump; and of the general resurgence of right-wing extremism that has swept across America in recent years. There are some humorous digs at Trump built into the script itself – 1970s KKK members talking using the rhetoric of Trump and phrases like "the greatness of America" – but the continuity between the 1970s and the present becomes most apparent in the final "live footage" sequences.
This, of course, works on an emotional rather than intellectual level – how accurate, in an actual sociological and political sense, is it to compare the 1970s and the 2010s? – but, as a commercial feature film, this is par for the course. BlacKkKlansman is an immersive, intelligent work.
Upgrade
Leigh Whannell's latest production (as writer-director) is a well-realised sci-fi revenge thriller – colourful, stylish, equal parts bloody and funny – and, as such, would not be to everyone's taste.
But for those of us, like myself, who grew up watching (and loving) films like Robocop (1987), Death Wish (1974), and Total Recall (1990), Upgrade is pure pleasure, a shot of adrenalin straight to the amygdala. Its approach is, within the limitations of its genre, thrillingly original, and raises genuine insights into the question that perennially haunts both philosophy and science-fiction – how does one constitute the relationship between the human and the machine? Anchored around a stoical lead performance by Logan Marshall-Green and a hypnotic soundscape, this is mandatory viewing for genre fans, and was one of the festival's best.
Read more: Upgrade is an extremely pleasurable sci-fi revenge film
Other notable films
There were several other excellent films, and reducing a diverse film festival to such a brief list involves a certain degree of barbarity that is sure to displease many. Where, for example, is the mention of the superior Georgian drama Scary Mother or the menacing and claustrophobic Hungarian film One Day, both films built around the fraught dynamic of living in a patriarchal, nuclear family in the 21st century?
There is no mention of the terrific American spy thriller Beirut, or the spectacular true-story heist film American Animals, one of the festival's funniest, which blends interviews with the real-life characters who attempt a heist of rare books from their college library with the dramatisation of these events.
Disobedience, a stunningly simple drama directed by Sebastián Lelio following the relationship between two Jewish women (Rachel Weisz and Rachel McAdams) in an Orthodox community, certainly deserves mention as one of this year's best.
Other gems included the immersive nature documentary The Ancient Woods – the first Lithuanian film to feature at the festival – which examines, in painstaking detail, the ecology within a Lithuanian forest; Mug, an agonising but brilliant comedy-drama about a metalhead, an outsider in a small Polish village, who becomes even more of a pariah when he has an accident and has to have a face transplant; and Bad Reputation, a flawless documentary following the career of Joan Jett, centred around her friendship with collaborator Kenny Laguna.
Of the films I managed to see (not including films of promise like Aga, Jirga, Ghost Stories and Support the Girls, which clashed with other sessions), there were few duds. Even flawed films like the Iranian comedy Pig, which has an excellent premise but is a little uneven, the Japanese gang film The Blood of Wolves, which is intense but overly formulaic, and the romantic comedy Juliet, Naked, enjoyable but a little trite, are still good, and probably better than most films to be released in 2018.
There were really only two films I regretted seeing: Beautiful Things, a pretentious documentary that strains for originality to the point of irritation, and The Wife, which is well-constructed but features such unpleasant characters, including the title heroine (Glenn Close), that it fails to be at all convincing.
I suspect many of these films will receive theatrical releases as the year unfolds. And I look forward to seeing some of them again on the big screen.
Authors: Ari Mattes, Lecturer in Media Studies, University of Notre Dame Australia
Read more http://theconversation.com/from-klansmen-to-a-kindergarten-teacher-the-unmissable-films-of-sydney-film-festival-98472