Written by

Jason Gibson, Research Fellow, Deakin University
Ten previously forgotten Aboriginal names for 19th century sites and suburbs of Melbourne have been recently unearthed at the Melbourne Museum. These include the names for Fitzroy (Ngár-go), Richmond (Quo-yung), Collingwood (Yálla-birr-ang) and Brunswick (Bulleke-bek).
These names were in a cache of notes made by Alfred William Howitt, an anthropologist and Gippsland magistrate. His jottings appear to be records of conversations he had sometime between 1897 and 1901 with William Barak, ngurungaeta (leader) of the Wurundjeri-willam, the traditional owners of what is now northern Melbourne, and Dick Richards, Barak's fellow Kulin countryman. (The Kulin was an alliance of Aboriginal nations in central Victoria.)
Howitt's palm-sized, leather bound notebooks, written in his barely legible hand, were not precise or verbatim records of these conversations but aides to memory. Held in the museum since the 1950s as a small part of his extensive collection, they are difficult to decipher and require expert scholarship to decode. Throughout one notebook we can see that Howitt has jotted down Aboriginal names, mostly in the Woiwurrung language once spoken in the Melbourne area, corresponding to landmarks and municipalities that arose in Melbourne town during Barak's lifetime. (He lived from around 1824 to 1903).
Although there is no accompanying map, these names identify landmarks and perhaps sites of Ancestral stories on land owned by Barak's clan and beyond. They add some 10 new locality names and further tantalising details to what is already known from other publications.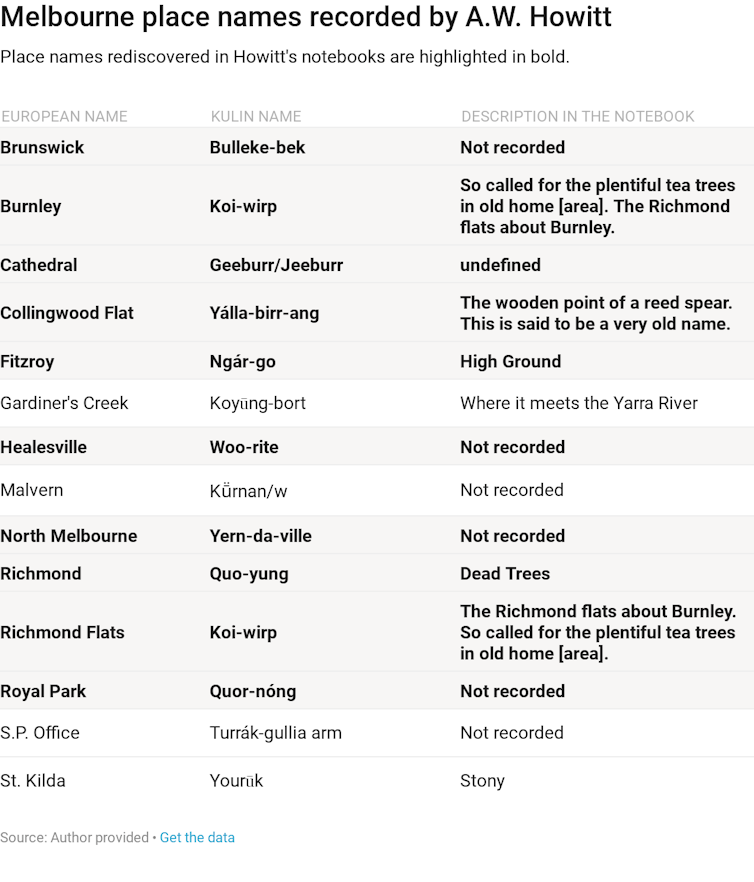 Authors: Jason Gibson, Research Fellow, Deakin University
Read more http://theconversation.com/rediscovered-the-aboriginal-names-for-ten-melbourne-suburbs-99139