Written by

Thomas Neitzert, Professor emeritus, Auckland University of Technology
As companies move to get rid of single-use plastic bags and bans on microbeads are coming into force, new biodegradable or compostable plastic products seem to offer an alternative. But they may be no better for the environment.
Recently, European scientists argued that existing international industry standards are insufficient and cannot realistically predict the biodegradability of compostable plastics. New Zealand's Parliamentary Commissioner for the Environment (PCE), Simon Upton, weighed into the debate, questioning the merit of biodegradable plastics and urging the New Zealand government to deal with the confusion surrounding their labelling.
The key concerns include the terminology itself, the lack of appropriate recycling or composting infrastructure and toxicity of degradable plastics.
Read more: How to clean up our universal plastic tragedy
Confusion over terms
We know that plastics hang around in the environment for a very long time. Recent surveys show significant support among New Zealanders for initiatives to reduce single-use plastics.
Newly marketed single-use plastics that claim to be biodegradable suggest that they will break down quickly into benign end products, but the reality is more complex. A degradable or compostable plastic item may indeed deteriorate slightly faster than a conventional product, but only if the conditions are right.
The current industry standards are not taking into account real-life conditions and are therefore underestimating the breakdown times. The standards are also not accounting for the damage to marine life that ingest breakdown particles before a product is completely degraded.
The PCE highlights that biodegradation should not be confused with other natural processes, such as weathering. For a plastic polymer to biodegrade, it needs to be broken down through the action of living cells (mostly fungi and bacteria) into simple chemical elements.
However, as the graphic below shows, the speed of biodegradation can vary greatly, depending on the original material and whether the plastic ends up in a commercial composting facility or a backyard compost heap or the ocean. Differences in materials, labelling and capabilities of composting facilities are making it difficult for the system to function properly.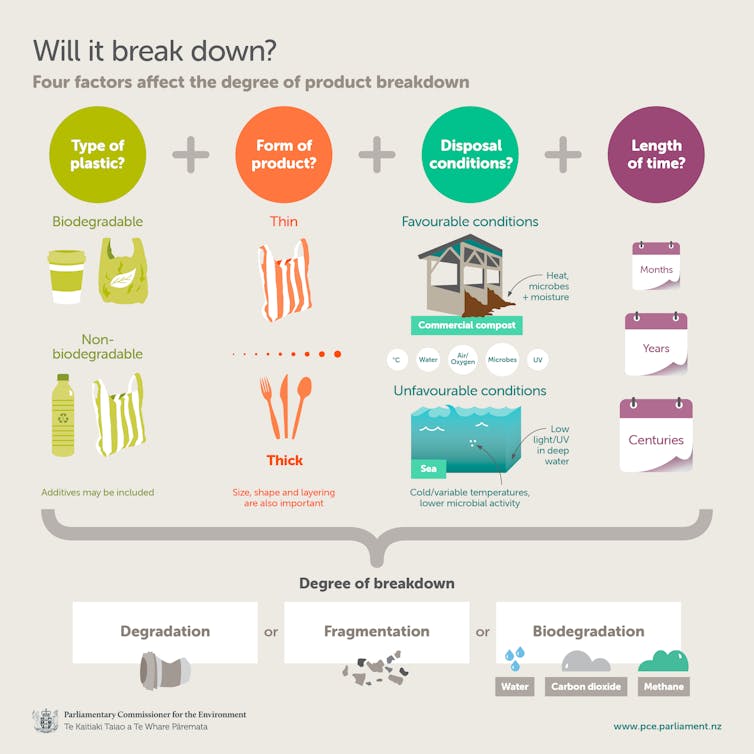 Authors: Thomas Neitzert, Professor emeritus, Auckland University of Technology
Read more http://theconversation.com/why-compostable-plastics-may-be-no-better-for-the-environment-100016