Written by

Michelle Grattan, Professorial Fellow, University of Canberra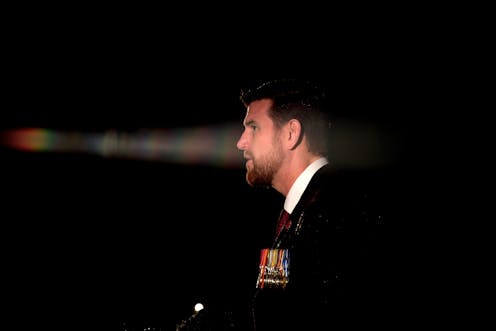 Victoria Cross winner Ben Roberts-Smith, the subject of allegations of misconduct while serving with the SAS in Afghanistan, has asked Attorney-General Christian Porter to refer reports by Fairfax Media to the Australian Federal Police, claiming breaches of the law.
Roberts-Smith, now out of the military, is under investigation by the Inspector-General of the Australian Defence Force as part of an inquiry into allegations of criminal misconduct on the battlefield by the SAS in Afghanistan.
The long-running inquiry is being led by NSW Supreme Court Justice, Paul Brereton, who is an officer in the Army Reserve.
Fairfax Media has published detailed accounts of the claims made against Roberts-Smith, which he denies.
On Friday the federal court dismissed his application for a restraining order to stop Fairfax continuing to publish articles that he said "contain a number of false allegations about me and my service in Afghanistan". The court found he did not have standing.
Roberts-Smith received his VC for bravery during an assault on an Afghan village in 2010, and was widely acclaimed and feted in the period following.
Allegations made against him include violence against Afghan prisoners and bullying fellow Australian soldiers.
Fairfax reported that it had "confirmed by speaking to multiple special forces insiders that among the allegations made to the Inspector-General's inquiry is that patrols he helped lead brutally mistreated unarmed Afghans.
"Four defence insiders have alleged that they observed patrols under Roberts-Smith's direct or deputy leadership severely mistreat unarmed Afghans on four occasions," Fairfax said.
In a Sunday email to Porter, Roberts-Smith's lawyer Mark O'Brien wrote that "our client has been the subject of an unfair and baseless campaign by the Fairfax Press to malign his reputation and his service record in Afghanistan.
"We are concerned that the reported articles published by Fairfax disclose breaches of Commonwealth laws."
It is alleged that there are breaches by both Fairfax Media, in obtaining and publishing classified information, and by the current or past members of the Australian Defence Force who provided it.
The letter asks Porter to refer the correspondence, including specific matters to the AFP "for a criminal investigation and, where applicable, prosecution against the laws of the Commonwealth".
A spokesman for Porter said the Attorney-General would consider the correspondence over the next several days.
But the spokesman also pointed out that "anyone who believes a breach of Commonwealth law has occurred can report such matters directly to relevant authorities."
Roberts-Smith in a Sunday statement accused Fairfax of "wanton disregard" of Commonwealth law and a "smear campaign".
"The current position is unfair not only to me but all members of the ADF whose service to our country is being attacked by individuals who choose to hide behind anonymous leaking to the media of operational matters in breach of the Defence Act," he said.
He said he would sue Fairfax for defamation.
Roberts-Smith now works as general manager of the Seven Queensland.
Authors: Michelle Grattan, Professorial Fellow, University of Canberra
Read more http://theconversation.com/embattled-vc-winner-asks-attorney-general-to-refer-fairfax-media-to-police-101435