Written by

Stephen Knight, Honorary Research Professor, University of Melbourne
Peter Corris, author of the Cliff Hardy novels, died on August 30 2018 age 76.
By the 1970s Australian crime fiction was drifting.
The genre had a long history, back to convict days, when it dealt with unfair convictions and brutal treatments, most famously in Marcus Clarke's For The Term Of His Natural Life (1870-2).
Being mostly published in London for the curiosity of the English, Australian crime fiction had followed European models, with some major success like Fergus Hume's best-selling The Mystery of a Hansom Cab (1886), and the fine series of mysteries by post-second world war women writers June Wright, "Margot Neville", Pat Flower and Pat Carlon. But local crime fiction was little publicised and had little impact – the books mostly came into libraries from London.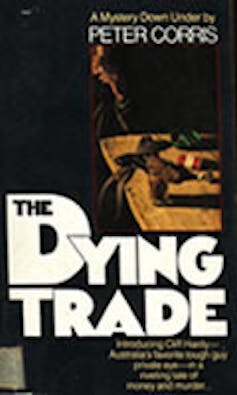 Goodreads
English business interests and Australian outlooks changed as time passed. Then, in 1980, Peter Corris's The Dying Trade appeared, a crime story which was American in its influence, fully Australian in its spirit, and both published and strongly publicised at home. The novel was the first adventure of a tough, but at times sensitive, Sydney private eye with the wonderfully Australian name, offering both geography and morality, Cliff Hardy.
Published by McGraw Hill, an American company newly adventuring across the Pacific, the novel was very well-received, and started Peter's own long series of fiction. But it was also the first of a very striking renaissance (or even naissance) in Australian crime writing.
Read more: Friday essay: from convicts to contemporary convictions – 200 years of Australian crime fiction
Within ten years Marele Day, Jennifer Rowe and Claire McNab were producing their sharp variants of female detection. By 2000, major producers such as Gabrielle Lord, Gary Disher and the powerful Peter Temple, who also recently passed away, were busily at work. They were asserting that the mysteries of death and detection could have a distinctly local and socially investigative thrust - as Corris had established back in 1980. No wonder he has been named the "godfather" of modern Australian crime fiction.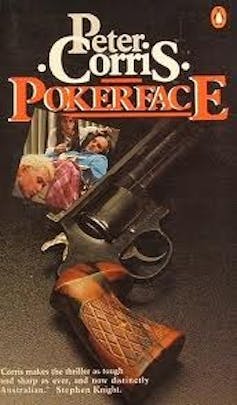 Authors: Stephen Knight, Honorary Research Professor, University of Melbourne
Read more http://theconversation.com/peter-corriss-cliff-hardy-was-a-genuine-australian-international-crime-fiction-hero-102473