Written by

David Hamer, Professor of Evidence Law, University of Sydney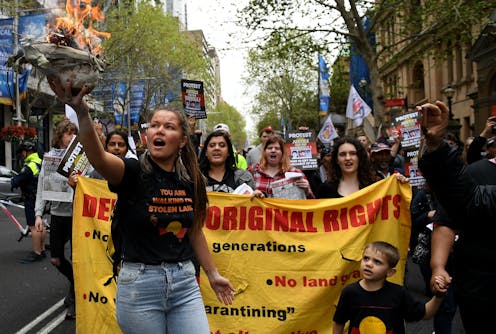 Last week, the NSW Court of Criminal Appeal added another chapter to a decades-long story of injustice for the Indigenous community of Bowraville.
The court ruled that a man should not be retried for the murders of two children, putting obstacles in the path of his prosecution for a third child murder.
Background of the case
Between September 1990 and January 1991, three Indigenous children – Colleen Walker, Evelyn Greenup and Clinton Speedy – disappeared from Bowraville township on the mid-north coast of NSW.
When the families reported the disappearances, local police suggested Colleen had gone "walkabout" and were slow to even file a missing person's report on Evelyn.
After Clinton's disappearance, an inexperienced detective was appointed to lead the investigation. In the following weeks, Clinton's remains and then Evelyn's remains were found nearby. Both had suffered penetrating injuries to their skulls. Colleen Walker's body has never been found.
Read more: Truth to power: how podcasts are getting political
In time, a man was charged with the murders of Clinton and Evelyn, but potential evidence had been lost as a result of the delayed and flawed investigation. The man, known in court documents as XX, cannot be named for legal reasons.
The prosecution sought to have the two murder charges heard together, relying on similarities between them, and the improbability of XX being innocently implicated in both. However, the trial judge held that similar fact evidence was inadmissible and ordered separate trials.
XX was acquitted of Clinton's murder in 1994. Despite a thorough police reinvestigation, he was also acquitted of Evelyn's murder in 2006.
Double jeopardy exemption
NSW is among the states with laws preventing double jeopardy, which means further prosecutions of XX would be barred. But giving greater weight to the interests of victims and the community, exceptions to double jeopardy protection were introduced into the Crimes (Appeal and Review) Act 2001 (NSW) in 2006.
The families of the Bowraville children have also been unrelenting in their efforts to achieve justice. Their cause was boosted by a Four Corners investigation in 2004 and, later, Dan Box's true-crime podcast, Bowraville, in 2016.
The double jeopardy reforms gave hope that the tragic Bowraville story could be given a just ending. However, for a prosecution application to succeed under the act, it would need "fresh and compelling evidence" of guilt.
In this case, the prosecution had no fresh DNA evidence and no late confession. The most compelling argument would rely on the unlikelihood that XX was innocently implicated in each murder.
Read more: We just Black matter: Australia's indifference to Aboriginal lives and land
The trial judge rejected similar fact evidence in 1993, but admissibility was broadened in the Evidence Act 1995 (NSW). This raised the question whether evidence that was deemed inadmissible at the original trial, but later became admissible, would be viewed as "fresh evidence". The NSW director of public prosecutions (DPP) and attorney-general thought not, and rejected police requests to apply to the court to have the acquittals overturned.
In 2014, a parliamentary committee recommended that consideration be given to "broadening" the double jeopardy exception "to enable a retrial where a change in the law renders evidence admissible at a later date". The Greens then introduced a bill to achieve this, but parliament rejected it.
In December 2016, the attorney-general applied to the court for an order that XX face retrial for the murders of Clinton and Evelyn. But last week, the court rejected this on the grounds that the 1993 coincidence evidence was not fresh, even if it had become freshly admissible since then.
What the latest ruling means
This is quite a blow. Further retrial applications are barred under the law. Also, given XX's acquittals for Clinton and Evelyn's murders, double jeopardy protection prevents prosecutors from implicating XX in those murders in order to prove Colleen's murder.
Parliament should have widened the double jeopardy exceptions in 2015. When the law makes compelling evidence freshly available to the court, this should be considered fresh evidence under double jeopardy reforms.
It is analogous to developments in forensic science making DNA evidence freshly available. There is no "floodgates" problem – this is the Australian first decision on an application for retrial under the double jeopardy reforms. And a similar double jeopardy exception in the UK has only generated a dozen or so applications in 15 years.
If, improbably, the prosecution were to make retrial applications to oppress acquitted defendants, the court could reject them as contrary to the "interests of justice". The criminal justice system's repeated failures in Bowraville are indefensible.
Authors: David Hamer, Professor of Evidence Law, University of Sydney
Read more http://theconversation.com/how-the-law-failed-three-children-and-their-families-in-the-bowraville-murder-case-103330