Written by

Iain Stewart, Analyst, ClimateWorks Australia
The long-awaited special report on the science underpinning the Paris Agreement goal of limiting global warming to 1.5℃ has been released today by the Intergovernmental Panel on Climate Change.
It tells us that hitting this goal will be challenging, but not impossible. And it highlights the benefits of hitting the target, by pointing out that global warming will be vastly more damaging if allowed to reach 2℃.
Read more: The UN's 1.5°C special climate report at a glance
The report says that for a 66% chance at limiting global warming to 1.5℃, an additional 550 billion tonnes of carbon dioxide (or its equivalent) can be emitted globally from the beginning of 2018. Increasing the risk to a 50% chance at limiting global warming to 1.5℃, that figure becomes 750Gt CO₂e.
Based on previous calculations, Australia's fair share of the global carbon budget is roughly equivalent to 1%. That would put Australia's remaining carbon budget at 5.5Gt and 7.5Gt for a 66% and 50% chance, respectively.
The simplified trajectory below shows that Australia would therefore need to reach net zero greenhouse emissions by 2038 for a 66% chance of limiting global warming to 1.5℃, and by 2045 for a 50% chance.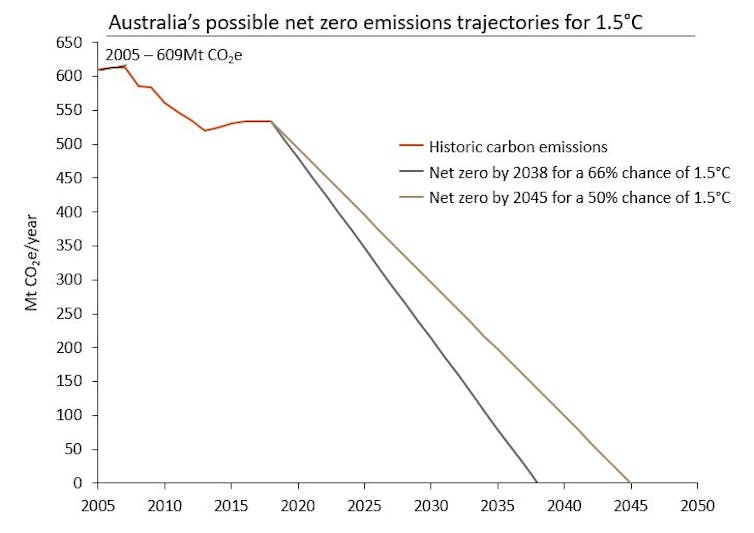 Authors: Iain Stewart, Analyst, ClimateWorks Australia
Read more http://theconversation.com/australia-has-two-decades-to-avoid-the-most-damaging-impacts-of-climate-change-104409