Written by

Kristian Bell, PhD candidate, Deakin University
Sign up to Beating Around the Bush, a series that profiles native plants: part gardening column, part dispatches from country, entirely Australian.
Spinifex grass: it's spiky, dominates a quarter of the continent, and has no recognised grazing value. To top it all off, people have reportedly experienced anaphylactic shock from being pricked by its sharp leaf tips.
Given this less-than-stellar rap sheet, you may wonder why this plant is the subject of my research attention.
Well, it turns out that these less desirable traits are also its virtue. A plethora of birds, mammals and reptiles rely on the unique plant for their survival – to such an extent that it's considered a keystone of its environment.
For animals small enough to navigate its sharp spines, spinifex offers a fortress of safety. Everything from mallee emu wrens, to hopping mice, to the near-mythical night parrot hide out from predators in spinifex (and snack on tasty termites and ants within).
Read more: Still here: Night Parrot rediscovery in WA raises questions for mining
For me, as an immigrant from the grey and drizzly lands of the UK, the bone-dry arid outback of Australia – where even the grass can harm you – was the perfect antidote to the dull, predictable safety of home.
This weird-looking plant, which always seemed to be associated with huge numbers of equally exotic animals, was so intoxicatingly new to me that I fell in love instantly. This lead to my current research: trying to stop the decline of spinifex.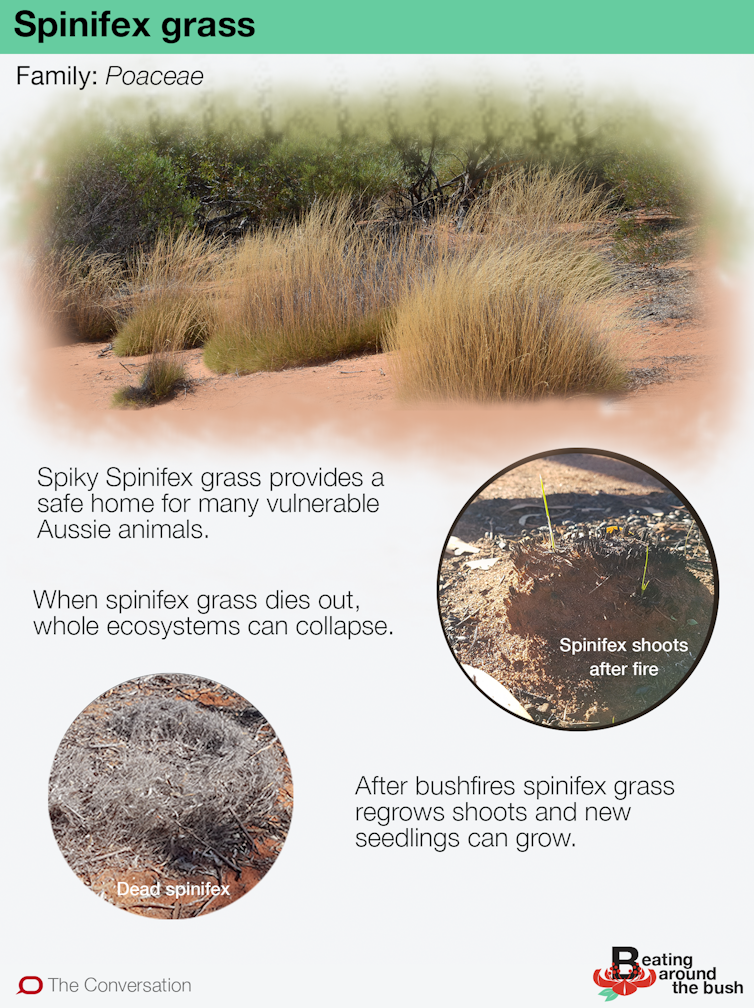 Authors: Kristian Bell, PhD candidate, Deakin University
Read more http://theconversation.com/spinifex-grass-would-like-us-to-stop-putting-out-bushfires-please-105651