Written by

Gregory Moore, Doctor of Botany, University of Melbourne
Few eucalypts are as versatile, varied and valuable as messmate stringybark. It was the first eucalypt to be scientifically named, and in fact gives us the name "Eucalyptus".
Gum trees had been seen and collected on earlier expeditions, but a specimen collected on James Cook's third expedition to Bruny Island off the Tasmanian coast was sent to the British Museum, where the French botanist Charles Louis L'Heritier de Brutelle named it and then published it in 1788.
Read more: Where the old things are: Australia's most ancient trees
L'Heritier named the specimen Eucalyptus obliqua, and so messmate stringybark is the first named and now type specimen for all Eucalyptus species. Because of the little caps covering the buds of this specimen, the name eucalypt was derived from the Greek eu, meaning "well", and calyptos, meaning "covered". Meanwhile, the asymmetrical or oblique leaf base gave us the description obliqua.
The name stringybark comes from the fibrous stringy bark that grows on the trunk of the tree, but no one knows the origins of the name messmate, which is also applied to several other eucalypt species.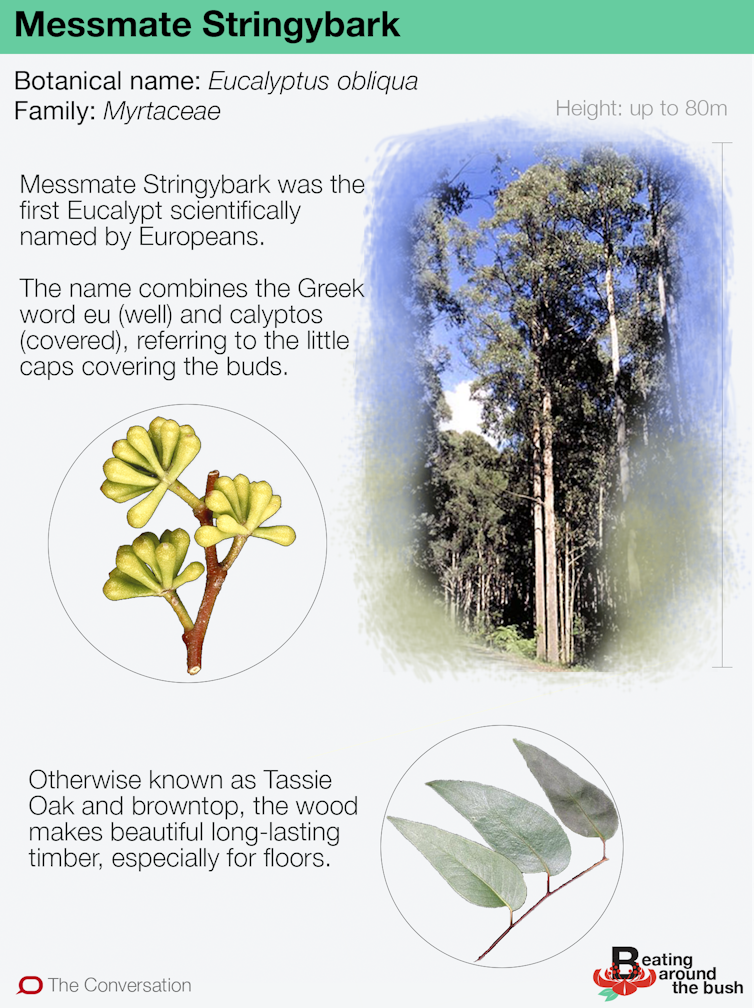 Authors: Gregory Moore, Doctor of Botany, University of Melbourne
Read more http://theconversation.com/stringybark-is-tough-as-boots-and-gave-us-the-word-eucalyptus-100528