Written by

Gregg Müller, Lecturer in Natural History, La Trobe University
People don't like parasites. But there's a local Aussie tree that's only a little bit parasitic: the native cherry, or cherry ballart.
It's what we call hemiparasitic. It can photosynthesise, but gains extra nutrients by attaching its roots to host plants.
The native cherry, Exocarpos cupressiformis, might be our most widespread root hemiparasite tree, but we're not quite sure – root-parasitic shrubs and trees are a bit of a research blank spot. We are not even really sure who all the hosts of cherry ballart are.
Read more: Warty hammer orchids are sexual deceivers
Although other parasites – like mistletoes – have a more direct Christmas association, cherry ballart does have an Australian Yuletide connection: their conifer-like appearance (the species name cupressiformis means "cypress-like") was noted by homesick European settlers, who chopped them down for Christmas trees.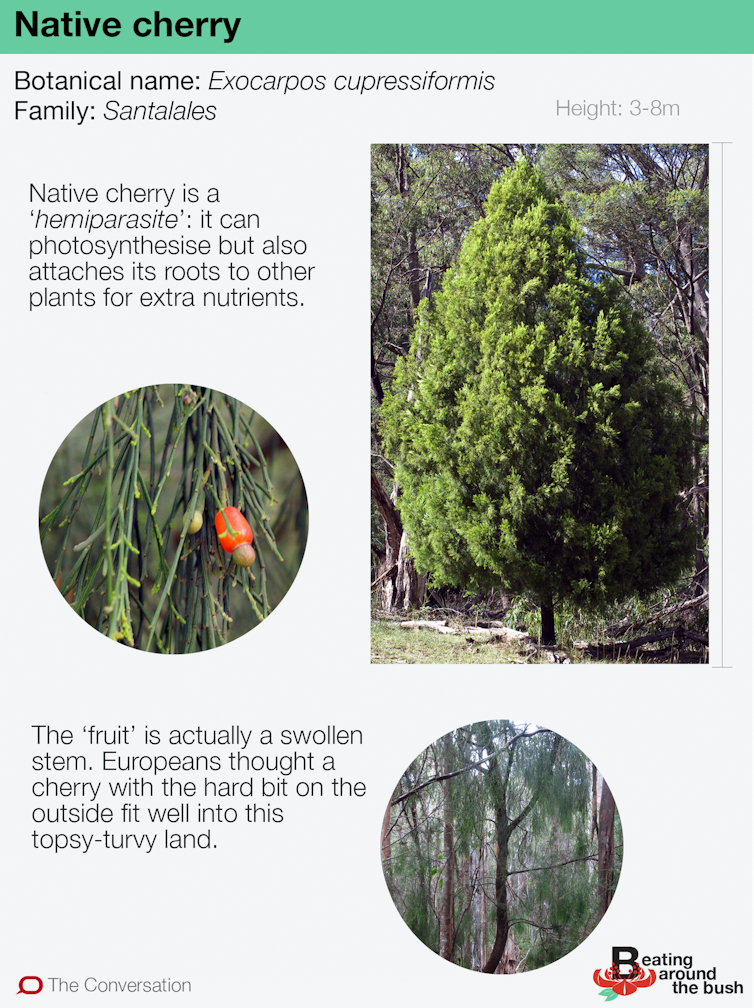 Authors: Gregg Müller, Lecturer in Natural History, La Trobe University
Read more http://theconversation.com/native-cherries-are-a-bit-mysterious-and-possibly-inside-out-108760