Written by

Michelle Grattan, Professorial Fellow, University of Canberra
As Labor seeks to get maximum political mileage from the banking royal commission report, Bill Shorten on Tuesday asked Scott Morrison for extra parliamentary sitting days to pass legislation to implement some of its recommendations.
In a letter to Morrison, Shorten said both houses should be recalled on March 5-7 and March 12-14. The sitting calendar has only 10 sitting days before the election.
"While there are many significant priorities facing the parliament, there is no more pressing priority than addressing the recommendations of the royal commission," he said in his letter.
Shorten said it was "deeply regrettable" that the government had not given in-principle agreement to all the commission's recommendations.
Read more: Banking Royal Commission: no commissions, no exemptions, no fees without permission. Hayne gets the government to do a U-turn
Both government and opposition have left themselves some wriggle room on the question of implementation, particularly on timing, while seeking to convey the message they are embracing everything commissioner Kenneth Hayne has recommended.
The government has said it will be "taking action" on all 76 recommendations. But it is not, for example, implementing for the time being the recommendation that the borrower, not the lender, should pay the mortgage broker fee for acting on home lending. It says this could reduce competition.
The opposition says it accepts all recommendations "in principle".
In his letter Shorten said he noted that "the government has agreed to some important legislative changes" arising from the commission.
"After taking so long to recognise a royal commission was necessary, Australians will not accept any further delaying tactic from your government," he said.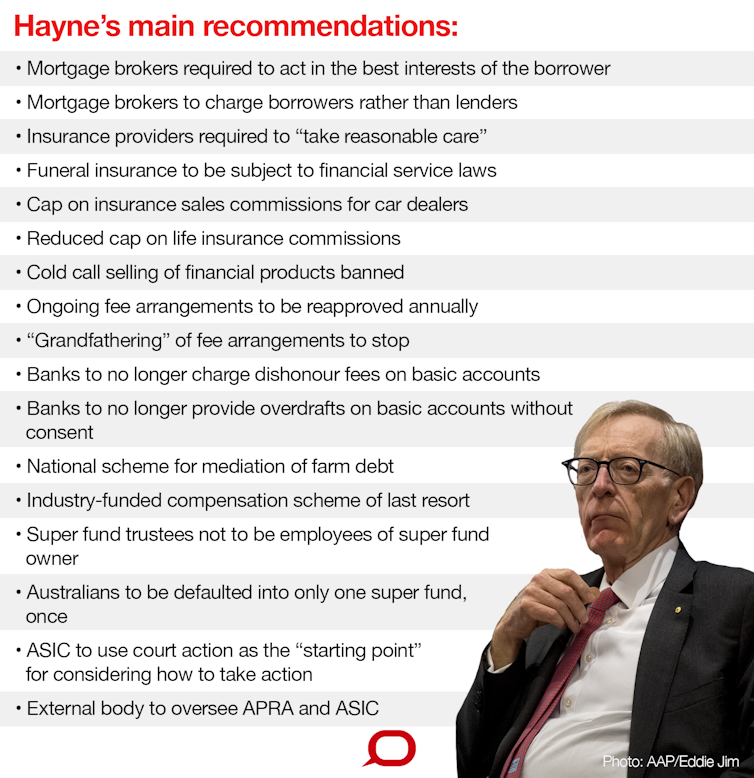 Authors: Michelle Grattan, Professorial Fellow, University of Canberra
Read more http://theconversation.com/shorten-we-should-legislate-on-hayne-recommendations-before-election-111196