Written by

Michelle Baddeley, Director, Research Professor Institute for Choice, University of South Australia
Climate change, the environment and energy policy are all key issues in this election campaign, fuelled by compelling evidence of our accelerating impact on the environment and climate. While voters agree more than you might think, there's still a serious split on the importance of acting on climate change and preventing harm to the environment.
Australia's major political parties fall into two broad camps on these issues. The Labor party is spruiking policies that control emissions and move towards renewables, consistent with its rhetoric about taking on the "top end of town" – including the mining industry.
Read more: Australia's major parties' climate policies side-by-side
In the Liberal-National view, concerns about energy and the environment are attacks on the businesses that deliver Australia's prosperity. Moving away from coal towards renewables is typical of an opposition that has neither the ability nor inclination to support a thriving economy and control government finances: all symptomatic of the "Bill Australia can't afford".
But are Australians really that divided? Between April 29 and May 3, 2019, we asked 1,170 people about their attitudes and behaviours, including questions about voting intentions for those respondents eligible to vote in the upcoming election.
We wanted to know how our respondents intended to vote. How did that correlate with their attitudes towards climate change, and policies around energy and the environment?
We asked respondents to rate various statements about their behaviour and attitudes on a Likert five-point scale, where 1 means "strongly agree" and 5 means "strongly disagree".
These statements included eight questions about attitudes towards climate change, and five questions on various policies (a tax on carbon, an emissions trading scheme, business incentives for carbon-neutral production, and regulation of mining and plastic use).
We also asked respondents to rate the importance of the broad statement: "How important is it for the government to implement policies to address environmental damage and climate change?"
(Note: the main purpose of the survey was to explore people's likely choices about smart meters. In common with any survey, there may be many sources of sampling bias. Our survey was not designed to be a representative sample of political constituencies, and so is not an attempt to predict the election outcome.)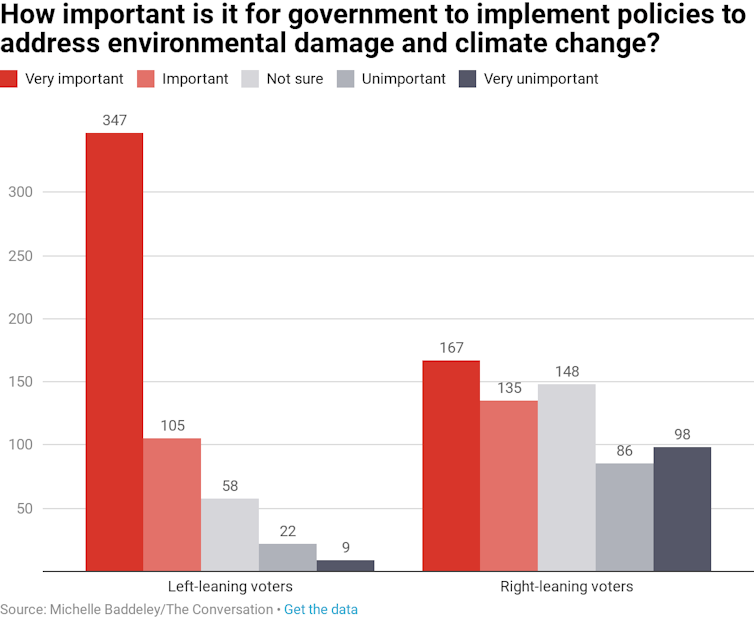 Authors: Michelle Baddeley, Director, Research Professor Institute for Choice, University of South Australia
Read more http://theconversation.com/australians-disagree-on-how-important-climate-change-is-poll-117171