Written by

Adam Cross, Research Fellow, Curtin University
Sign up to the Beating Around the Bush newsletter here, and suggest a plant we should cover at batb@theconversation.edu.au.
On a warm evening in early 1802, Robert Brown sat aboard the HMS Investigator describing several plant specimens collected that day. Brown was the botanist on Captain Matthew Flinders' expedition, and they had been anchored in King George Sound for nearly a month documenting the remarkable flora of the area.
He keenly awaited the return of their gardener, Peter Good, who had left earlier in search of a curious "pitcher plant" discovered the previous morning by botanical artist Ferdinand Bauer and landscape artist William Westall.
Read more: Death traps: how carnivorous plants catch their prey
Unbeknownst to him, in minutes he would be gazing upon a uniquely wondrous plant: Cephalotus follicularis, the Albany pitcher plant.
Named after the southwestern Australian port city around which it occurs, the Albany pitcher plant stands out as an oddity even by the standards of carnivorous plants. The species is instantly recognisable, as it produces distinctive insect-trapping pitcher leaves that sit on the ground almost expectantly waiting for prey.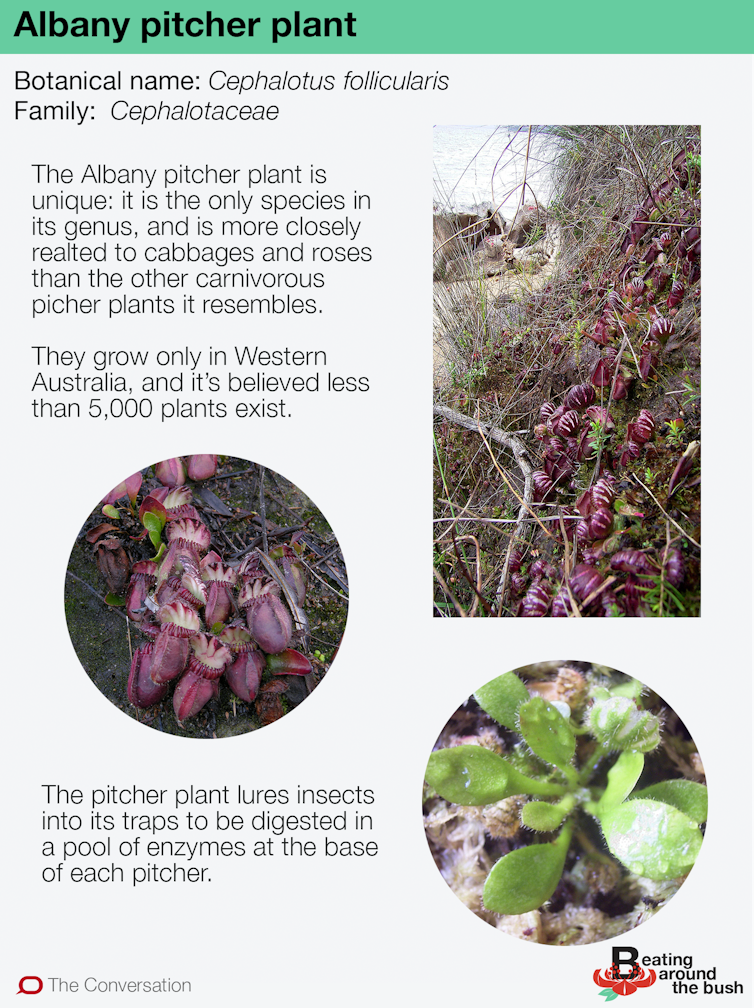 Authors: Adam Cross, Research Fellow, Curtin University
Read more http://theconversation.com/the-albany-pitcher-plant-will-straight-up-eat-you-if-youre-an-ant-120767