Written by

Paul Giles, Professor, Challis Chair of English, University of Sydney
Toni Morrison, who has died aged 88, was the most influential and studied American author of her generation. Born as Chloe Wofford in Ohio in 1931, she graduated in 1953 with a B.A. in English from Howard University, a historically black college located in Washington DC. She then completed an M.A. at Cornell on the work of Virginia Woolf and William Faulkner, before beginning an academic teaching career.
She married Harold Morrison, a Jamaican architect, in 1958, but after their divorce in 1964 Morrison started working as an editor for Random House in New York. It was here that she began writing fiction, publishing her first novel, The Bluest Eye, in 1970. It was her third novel published in 1977, Song of Solomon, that was her breakthrough work, winning the National Critics' Book Circle Award.
Her most famous novel, Beloved followed in 1987. It was a fictionalised account of the 19th-century slave Margaret Garner, who killed her own daughter to save her from slavery.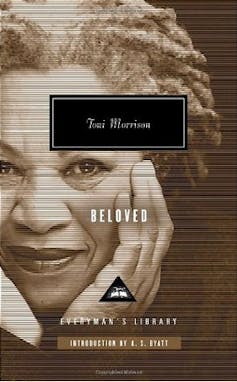 Authors: Paul Giles, Professor, Challis Chair of English, University of Sydney
Read more http://theconversation.com/the-most-influential-american-author-of-her-generation-toni-morrisons-writing-was-radically-ambiguous-121557