Written by

Luciana d'Arcangeli, Cassamarca Senior Lecturer in Italian Studies, Flinders University, Flinders University
Lina Wertmüller was known to everyone in the world of cinema long before she donned her iconic, custom made, white-rimmed glasses in the 80s, or her hair turned white to match.
The Italian filmmaker has directed 40 films since 1963. In 1977, she was the first woman nominated for the Best Director Academy Award. Her film, Seven Beauties, was also nominated for original screenplay (Wertmüller), leading actor (Giancarlo Giannini), and best international feature film.
The nominations came as no surprise. Wertmüller, a self-declared socialist, made hilariously irreverent films that featured reversals of power in terms of class, gender, social roles and mores. The situations were shot in credible backgrounds, were they beautiful deserted islands, brothels or extermination camps. The characters were likeable no matter how inept, arrogant or criminal, be they men or women, and their dialogues spectacularly lively and relatable, enriched with northern and southern Italian dialects and a peppering of colourful expressions and swear words.
Half a century since her nomination, only four other women have been nominated for Best Director – and only Kathryn Bigelow has won. In a bid to internationalise and value women's contribution to film, this weekend Wertmüller was presented with an honorary Oscar. The nonagenarian stole the show.
"She would like to change the Oscar to a feminine name," said Isabella Rossellini, acting as interpreter for Wertmüller on stage. "She would like to call it 'Anna'!"
"It's a very serious mistake to have called it Oscar," added Wertmüller in Italian.
As this is only the second honorary Award conferred to a woman director (Agnes Varda being the first, in 2017), Wertmüller has a point.
Read more: Oscars 2019: Olivia Colman wins best actress, but yet again Hollywood shows it thinks film-making is a man thing
A feminist rule-breaker
Italian newspapers hail Wertmüller as the "lady" of Italian cinema. They should know better. A non-conformist at heart Lina Wertmüller has been a rule-breaker from a young age, choosing to follow her passion, be it for comic books or for theatre and cinema. When asked by Jane Campion, at the time a student in Australia, "How does one find the money to make a film?" she responded "Anything goes, even stealing. You need to do whatever it takes to follow your passion".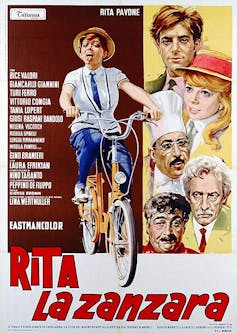 Authors: Luciana d'Arcangeli, Cassamarca Senior Lecturer in Italian Studies, Flinders University, Flinders University
Read more http://theconversation.com/the-lowdown-on-lina-wertmuller-the-rule-breaking-nonagenarian-female-director-finally-awarded-an-oscar-126009