Written by

Karleen Gribble, Adjunct Associate Professor, School of Nursing and Midwifery, Western Sydney University
Every summer in Australia, bushfires, cyclones and floods threaten lives and properties. Preparing for these emergencies includes creating an emergency kit that contains everything you and your baby will need if essential services are disrupted or you need to evacuate.
Infants are particularly vulnerable in emergencies. Without access to appropriate food and fluid they can become seriously ill within hours, particularly in hot weather.
Read more: Hospitals feel the heat too from extreme weather and its health impacts
Families can be isolated without power or water in their homes for long periods. They can be stranded in their cars while evacuating for hours or even days. And because government planning for infants is lacking, even when you reach an evacuation centre, you may have to wait to access infant feeding supplies.
But parents can find it difficult to pack the necessary supplies for their babies. We are so used to having reliable power and water that it's hard to imagine what it's like not to have them.
During the 2011 Queensland flooding and cyclone Yasi disasters, for example, one-quarter of families evacuated were unable to pack adequate infant feeding supplies.
This difficulty is compounded by the fact that, apart from Queensland, state and territory governments do not provide detailed guidance for parents on what to pack for babies in emergency kits. Some emergency organisations offer more advice on what to pack for pets than for babies.
Gathering supplies at the last minute can be dangerous as it can delay leaving.
So, what do parents and caregivers need in their kit?
Emergency kits should have everything you need to look after your baby for at least three days without having any access to electricity or water.
Breastfed babies
If your baby is less than six months old and fully breastfed, you will need nappies, wipes, and some extra water to keep hydrated.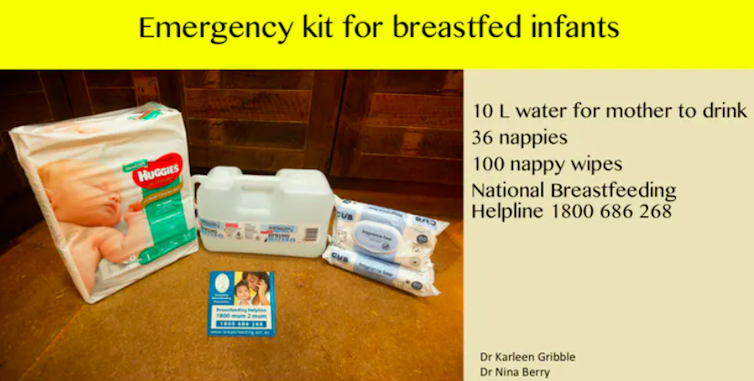 Authors: Karleen Gribble, Adjunct Associate Professor, School of Nursing and Midwifery, Western Sydney University
Read more http://theconversation.com/evacuating-with-a-baby-heres-what-to-put-in-your-emergency-kit-127026