Written by

Aniko Blanka Toth, Postdoctoral Fellow, Macquarie University
As the world grapples with an extinction crisis, our large mammals are among the most endangered. These threatened species – rhinos, pandas, tigers, polar bears and the like – greatly influence their ecosystems. So what will happen to the smaller animals left behind?
Clues from a past megafaunal extinction could give us the answer. Thousands of years ago, many large mammals went extinct including mammoths, saber-toothed cats and Australia's giant wombat. The extinctions happened at different times, shortly after human colonisation on each continent.
A study I led, published in the journal Science, has found after the megafauna disappeared, many surviving mammal species went their separate ways. This weakened connections between species and may have made ecosystems more vulnerable.
As human activity drives modern megafauna towards extinction, our study gives valuable insights into the potential repercussions for smaller survivors.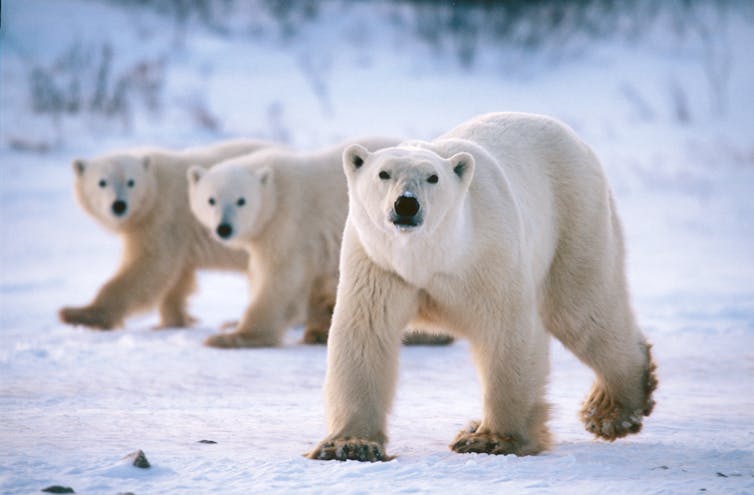 Henry H. Holdsworth/Natural Habi
Surprise results
Our team analysed the fossil records of 93 mammal species at hundreds of sites in North America, dating back up to 21,000 years, before the extinctions began.
We then determined the extent to which a particular species lived alongside others at each site. We found that after the extinction of large mammals, smaller mammals often distanced themselves from neighbouring species and were found together much less often than expected.
Surprisingly, this separation occurred while many survivors were claiming new habitats after the extinctions - which meant the potential space for co-habitation had actually aincreased.
The below diagrams show how animal species may have lived alongside each other before and after the megafauna extinctions. In the first, two species occupied the same area while co-habiting (orange sites). In the second, animals occupied the same area but were more segregated (red and yellow sites).
Authors: Aniko Blanka Toth, Postdoctoral Fellow, Macquarie University
Read more http://theconversation.com/extinction-of-ice-age-giants-likely-drove-surviving-animals-apart-125132