Written by

Catherine Ganter, Senior Climatologist, Australian Bureau of Meteorology
The past Australian summer was a season of two contrasting halves. So did the midsummer weather change make a dint in the drought, and is it likely to continue through autumn?
The first half of summer was exceptionally hot, dry and dusty. Parts of eastern and southern Australia were engulfed by significant bushfires, and smoke haze covered large areas.
In the second half of the season, tropical moisture at times extended into southern Australia, producing well above-average rainfall for some areas. This was great news for many, but some parts of the country missed out. Other areas need follow-up falls over the coming months to ease the long-term dry, and inland water storages increased only slightly.
The autumn outlook suggests warmer-than-average temperatures for most of the country. There is also a slightly increased chance of wetter-than-average conditions in parts of southern Australia, indicating some areas could see a gradual easing of the drought conditions.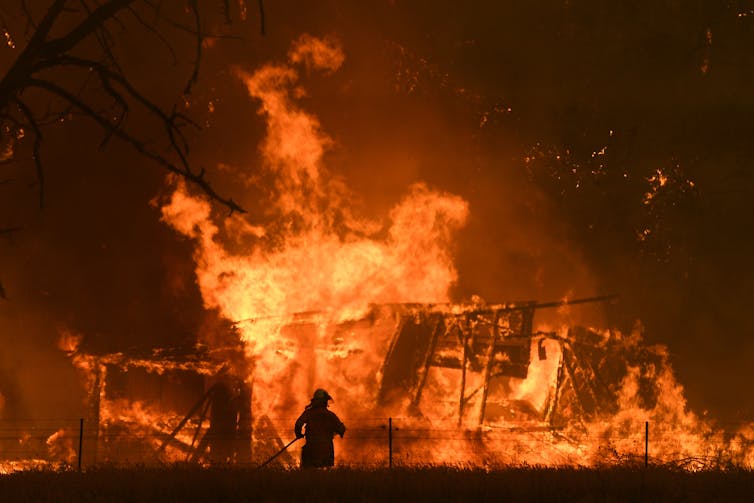 DAN HIMBRECHTS/AAP
What happened this summer?
Summer 2019-20 was the nation's second hottest in 110 years of records, driven in part by Australia's hottest December on record in 2019. Warmth across much of the tropical north and east persisted into January and February. Summer nights were second-warmest on record.
Total summer rainfall was closer to normal – 8% below the long-term average. But the rainfall figures hide the significant shift in the climate mid-way through the season.
Australia experienced very warm and dry conditions in the lead-up to summer. With a delayed onset of the monsoon moving into the southern hemisphere, heat built across northern and central Australia from the start of December and was drawn south by weather systems.
Read more: Some say we've seen bushfires worse than this before. But they're ignoring a few key facts
Australia had its hottest day on record on December 18, with a nationwide average temperature of 41.88℃. This was far above the previous record of 40.32℃ set on January 7, 2013.
Six other days in December 2019 also exceeded this previous record. To put this in context, the Australia-wide average maximum temperature has exceeded 40℃ for more days in the past two summers than in the preceding 110 years combined.
The hottest temperature recorded this summer was at Nullabor, South Australia, on December 19, when it reached 49.9℃.
Averaged across the continent, December maximum temperatures were 4.15℃ above average - the previous December record was 2.41℃ above average, set in 2018.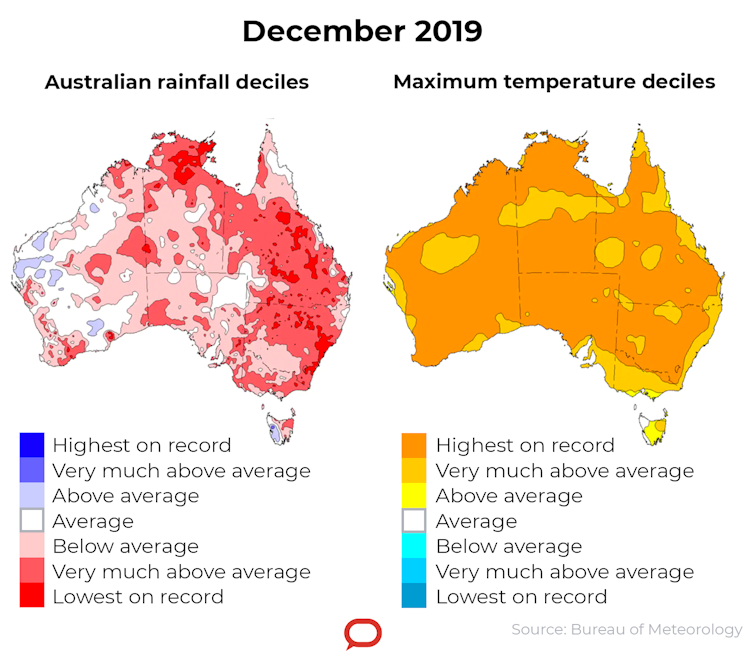 Authors: Catherine Ganter, Senior Climatologist, Australian Bureau of Meteorology
Read more https://theconversation.com/after-a-summer-of-extremes-heres-what-to-expect-this-autumn-132862