Written by

Michelle Grattan, Professorial Fellow, University of Canberra
NSW and Victoria are shutting down non-essential services and activities over the next 48 hours, and the federal government has announced it will increase and widen eligibility for income support as the coronavirus crisis escalates.
Premier Gladys Berejiklian said the NSW shutdown would leave supermarkets, petrol stations, pharmacies, convenience stores, freight and logistics, and home deliveries among many services remaining open.
Schools would be open Monday but Berejiklian flagged she would have more to say about this on Monday morning.
Victorian premier Daniel Andrews announced a similar shutdown and is bringing forward school holidays to start Tuesday, with a decision on whether schools will reopen to be taken on medical advice.
Andrews said the shutdown decision was not taken lightly but "it's clear that if we don't take this step, more Victorians will contract coronavirus, our hospitals will be overwhelmed and more Victorians will die".
Read more: The case for Endgame C: stop almost everything, restart when coronavirus is gone
Scott Morrison told Australians not to undertake unnecessary domestic travel, including in the coming school holidays.
"All non-essential travel should be cancelled," he said bluntly at a Sunday news conference where he unveiled a $66.1 billion second federal package.
South Australia is closing its border from 4 pm Tuesday, establishing 12 border crossings, and requiring travellers to sign a declaration to self-isolate for a fortnight.
Western Australia also announced a closure with Premier Mark McGowan saying the controls "will apply to all access points, roads, air, rail and sea. Unless exempted, arrivals from interstate will be ordered to self isolate for 14 days". "Western Australia is now in a war," he said.
Tasmania and the Northern Territory have already acted on their borders.
The federal-state national cabinet's meeting has been brought forward from Tuesday night to Sunday night, to discuss ever-toughening measures to handle the fast spread of the virus. But NSW and Victoria came out with their announcements ahead of that meeting.
The federal government's second economic package, which has ten separate measures, will provide support for households - including those on income support, casual workers, sole traders, and retirees - and will also seek to prop up businesses with cash, loans and regulatory protection.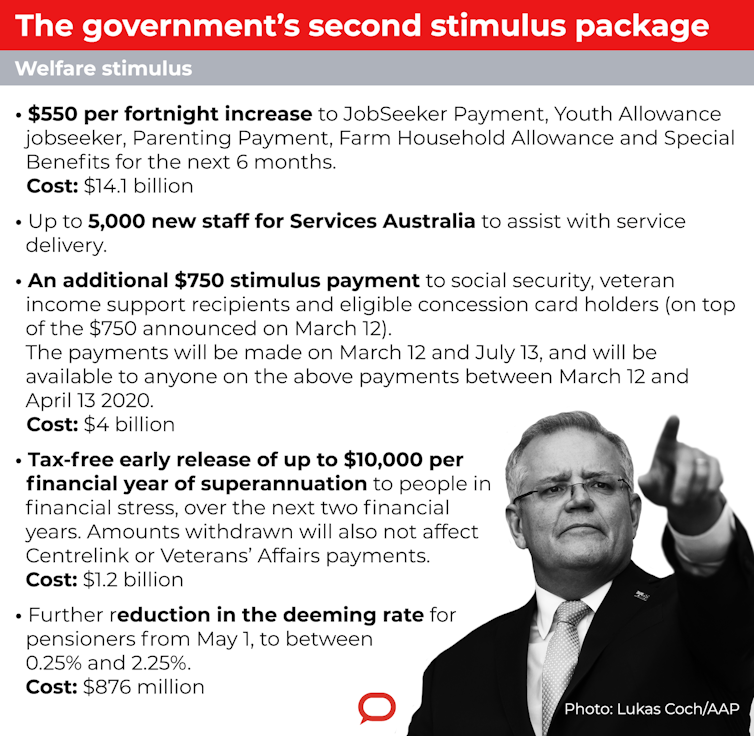 Authors: Michelle Grattan, Professorial Fellow, University of Canberra
Read more https://theconversation.com/nsw-and-victoria-announce-shutdowns-as-federal-government-widens-and-ramps-up-income-support-134355